Lost Boys (Hardcover)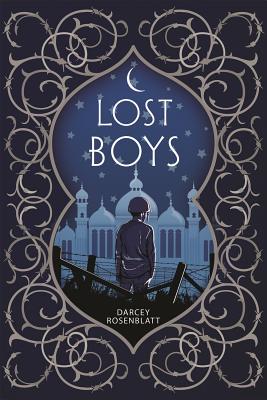 Staff Reviews
---
Great for fans of Night Divided! This book takes you back to the Iranian-Iraqi religious wars in the 1980's and focuses on the boy soldiers who were asked to fight for their country. There are a lot of tough subjects in this story, but it may be one of the most beautiful books I've ever read. This author brought the hidden history of these boys to life. Amazing read.
— From
What Sarah is reading
An accessible book that allows young people to learn about boy soliders in the Middle East. The story is told with heartbreak and longing, but overall -- love. With a message that tells all readers, in the end we are all humans who want to love and be loved.
— From
What Mackenzie is reading
Description
---
Based on historical events, this unforgettable and inspiring tale for middle-grade readers is about a young boy torn from the only life he's ever known and held captive as a prisoner of war.
In 1982, twelve-year-old Reza has no interest in joining Iran's war effort against Iraq. But in the wake of a tragedy and at his mother's urging, he decides to enlist, assured by the authorities that he will achieve paradise should he die in service to his country.
War does not bring the glory the boys of Iran have been promised, and Reza soon finds himself held in a prisoner-of-war camp in Iraq, where the guards not only threaten violence—they act upon it. Will Reza make it out alive? And if he does, will he even have a home to return to?
Friendship, heartbreak, and Reza's very survival are at stake as he finds solace through music and forges his own path—wherever that might take him.
About the Author
---
Darcey Rosenblatt is the author of Lost Boys. She's a cofounder of the Better Books Workshop for middle grade and young adult writers, and she loves dancing and painting. She lives in San Francisco.
Praise For…
---
"Rosenblatt's debut is fiction, but rooted in fact: the plight of 'lost boy soldiers' was all too real. Thanks to careful research and a well-written narrative, Rosenblatt brings their stories to vivid and memorable life. The lost boys, at least here, are found." —Booklist
"Reza's adolescent rebellion, passion for music, and loyalty to his friends make him an appealing protagonist, and the constant dangers threatening him create a compelling read. Secondary characters demonstrate the complexity of attitudes and loyalties during the Iran-Iraq conflict . . . . A powerful look at a tragic period in history." —School Library Journal
"This hard-hitting first novel opens in Iran in 1982. . . . The resilience of Rosenblatt's protagonist strikes a strong chord." —Publishers Weekly