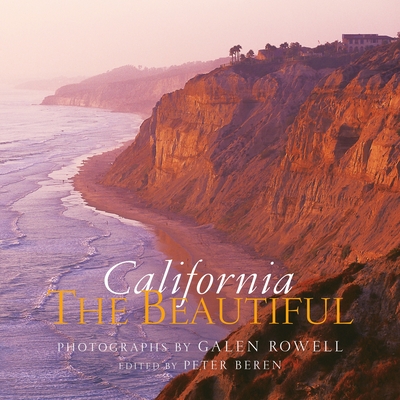 Description
---
As America stands to the rest of the world, so stands California to America - a shining promise of endless possibility. This exquisite celebration of the Golden State has been updated with a new introduction, new cover design, and an enlarged size to suit the grandeur of its subject. California the Beautiful is both a portrait of the state's diverse natural beauty and, through the incredible voices of its writers, a testament to the ever-renewing spirit that it has come to embody. Aldous Huxley, British author turned Hollywood resident, described the California dream as "this great crystal of light, whose base is as large as Europe and whose height for all practical purposes, is infinite." Among the other authors offering praise are Maya Angelou, Mary Austin, Ray Bradbury, Joan Didion, Gretel Ehrlich, Lawrence Ferlinghetti, M.F.K Fisher, Robertson Jeffers, Jack Kerouac, Clarence King, Jack London, Henry Miller, John Muir, William Saroyan, April Smith, John Steinbeck, Robert Louis Stevenson, Mark Twain, Nathanael West, and Walt Whitman.

Land of innovation and opportunity, California is both dream and reality. California the Beautiful is a gift for all who have felt the lure of this dual promise and who have marveled at the unrivaled beauty of this quintessentially American land.
About the Author
---
GALEN ROWELL (1940-2002) photographed all over the world and is renowned for his staggering archive of nature and outdoor photography. An accomplished mountaineer, he could obtain camera angles that other photographers could not reach. His work has appeared in every major nature magazine, including National Geographic, Life, Outside, Sports Illustrated, and countless other publications around the globe.

Rowell's fine prints have been featured at New York's Nikon House and International Center of Photography, Chicago's Field Museum, The Smithsonian Institution and many other domestic and foreign venues. He is the author of more than a dozen bestselling illustrated books, including North America the Beautiful, Mountain Light, and My Tibet.

PETER BEREN has authored and edited numerous books, including The Writer's Companion, Vintage San Francisco, and Hidden Napa Valley. Formerly publisher of Sierra Club Books and founding publisher of VIA Books, Peter lives in the San Francisco Bay Area with his wife, Susan, a publishing professional.
Praise For…
---
"Words shimmer and resonate in this book, which combines the photographs of the late Galen Rowell - a California native - With a panoply of quotes about the Golden State from an impressive array of writers. Rowell's landscapes are so vividly rich...that they work at this scale like dazzling jewels...[a] skillful blending of text and image."
Color Magazine

"This collection of images shows off the Golden State's most scenic vistas...the state's diverse natural beauty is augmented with inspirational words from Maya Angelou, Joan Didion, John Muir and many more."
Outdoor Photographer

"Peter Beren edits this gorgeous collection...pairing some eighty-five images from the photographer Galen Rowell with the voices of some fifty California writers, from Maya Angelou to Ray Bradbury and Henry Miller. A lovely, keepsake editiion for any California collection."
California Bookwatch

"As a California native and former photographer and travel expert, I can truly say that the photographs in California the Beautiful are the next best things to being there."
--Rebecca Foree, author of Northern California Best Places