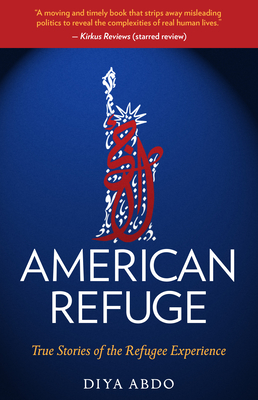 Description
---
"A moving and timely book that strips away misleading politics to reveal the complexities of real human lives." — Kirkus Reviews (starred review)

A provocative, conversation-sparking exploration of refugee experiences told in their own words, for readers of Karla Cornejo Villavicencio's The Undocumented Americans and Viet Thanh Nguyen
Forced to leave their homes, they came to America...
In this intimate and eye-opening book, Diya Abdo--daughter of refugees, U.S. immigrant, English professor, and activist—shares the stories of seven refugees. Coming from around the world, they're welcomed by Every Campus A Refuge (ECAR), an organization Diya founded to leverage existing resources at colleges to provide temporary shelter to refugee families.
Bookended by Diya's powerful essay "Radical Hospitality" and the inspiring coda "Names and Numbers," each chapter weaves the individual stories into a powerful journey along a common theme:
Life Before ("The Body Leaves its Soul Behind")
The Moment of Rupture ("Proof and Persecution")
The Journey ("Right Next Door")
Arrival/Resettlement ("Back to the Margins")
A Few Years Later ("From Camp to Campus")
The lives explored in
American Refuge
include the artist who, before he created the illustration on the cover of this book, narrowly escaped two assassination attempts in Iraq and now works at Tyson cutting chicken.
We learn that these refugees from Burma, Burundi, Iraq, Palestine, Syria, and Uganda lived in homes they loved, left against their will, moved to countries without access or rights, and were among the 1% of the "lucky" few to resettle after a long wait, almost certain never to return to the homes they never wanted to leave. We learn that anybody, at any time, can become a refugee.
About the Author
---
Diya Abdo is the first daughter and grandaughter of Palestinian refugees born in their country of displacement, Jordan. A graduate of Yarmouk University, she earned master's and doctorate degrees from Drew University. She is a full professor in the English department of Guilford College, where she founded the first chapter of Every Campus A Refuge (ECAR), which aims to host global refugees. Diya is the recipient of several national community engagement awards, including the 2021 J.M.K. Innovation Prize for her work with ECAR. She lives in Greensboro, NC, with her partner, daughters, and cats.
Praise For…
---
"A moving and timely book that strips away misleading politics to reveal the complexities of real human lives."
--Kirkus Reviews (starred review)

"Empathetic and caring, Abdo's expert writing conveys the nuanced stories of people whose lives have been heartwrenchingly upended, and who are doing what they must to survive and rebuild."
--Booklist

"Fans of Dina Nayeri's The Ungrateful Refugee will find Abdo's book compelling."
--Library Journal

"A powerful and extremely timely look at the lives of refugees arriving in the United States from around the world, Diya Abdo's American Refuge will be a major conversation starter."
--Indy Week

"American Refuge will make you think as well as feel. It is a must-read, not just for Americans but for all citizens around the world."
--Underrated Reads

"For countless refugees, Diya Abdo's Every Campus a Refuge changed their lives. Reading her book and their stories will change yours."
-- Susan Muaddi Darraj, author of A Curious Land, American Book Award winner

"Deepest respect for Diya Abdo's magnificent, utterly necessary book American Refuge. Abdo, a devoted educator and true on-the-ground human hero for founding the Every Campus A Refuge initiative, is also a profoundly gifted interviewer and lyrical writer. This threaded tapestry of rich stories, including her own family's, illuminates many reasons why people leave their home places, finding themselves at-sea, at-large, in an often-not-welcoming world. And follows what happens when they arrive somewhere. It's an inspiring compendium of thoughtfulness, discovery, and enlarged understanding, and could not have been written without Abdo's great gift for listening and learning. Though the daughter of a refugee myself, I had never before considered the inequities implicit in the use of 'expatriate' (white bodies moving into brown and black spaces) vs. immigrant, and learned so much on every page, as well as from the fascinating definitions included at the end.  Bravo! This book needs to land on every reading list."
-- Naomi Shihab Nye, Young People's Poet Laureate (The Poetry Foundation, 2019-2021) and author of Everything Comes Together

"Diya Abdo's American Refuge is thunderous, unforgettable testimony to the power of 'radical hospitality.' Never has a book been so timely, nor the voice of an author – and the unimaginably heroic voices of the refugees whose stories Abdo renders so brilliantly within these pages – resounded so plaintively, so fiercely, so poetically in praise of peace and shared humanity. The work Abdo has forged on the campus of Guilford College through her initiative, Every Campus a Refuge, is nothing short of miraculous. American Refuge is a primer on how to implement The Beatitudes."
-- Joseph Bathanti North Carolina Poet Laureate (2012-14) and author of Light at the Seam