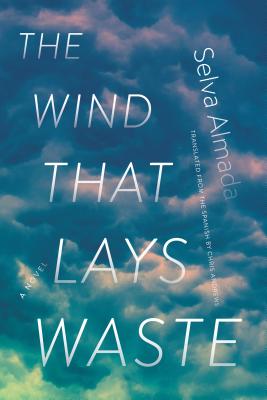 Staff Reviews
---
This small-scale novel is big in feeling and humanity. It takes place over one day with only four imperfect yet likeable characters. This is a quiet-before-the-storm type story evoking introspection and emotion. I was absorbed into this story, could picture the dusty rural setting and the tough-as-nails characters. Every word is important in this small story and the translation is excellent. Good if you like Steinbeck or Consider This Senora.
— From
What Karin is Reading
Description
---
A taut, lyrical portrait of four people thrown together on a single day in rural Argentina

The Wind That Lays Waste begins in the great pause before a storm. Reverend Pearson is evangelizing across the Argentinian countryside with Leni, his teenage daughter, when their car breaks down. This act of God or fate leads them to the workshop and home of an aging mechanic called Gringo Brauer and a young boy named Tapioca.

As a long day passes, curiosity and intrigue transform into an unexpected intimacy between four people: one man who believes deeply in God, morality, and his own righteousness, and another whose life experiences have only entrenched his moral relativism and mild apathy; a quietly earnest and idealistic mechanic's assistant, and a restless, skeptical preacher's daughter. As tensions between these characters ebb and flow, beliefs are questioned and allegiances are tested, until finally the growing storm breaks over the plains.

Selva Almada's exquisitely crafted debut, with its limpid and confident prose, is profound and poetic, a tactile experience of the mountain, the sun, the squat trees, the broken cars, the sweat-stained shirts, and the destroyed lives. The Wind That Lays Waste is a philosophical, beautiful, and powerfully distinctive novel that marks the arrival in English of an author whose talent and poise are undeniable.
About the Author
---
Selva Almada was born in Entre Ríos, Argentina, in 1973. She has been a finalist for the Rodolfo Walsh and Tigre Juan prizes, and is considered one of the most potent and promising literary voices in Argentina and Latin America.

Chris Andrews teaches at the University of Western Sydney. He has translated books of fiction by Latin American authors, including Roberto Bolaño's Distant Star, César Aira's The Musical Brain and Other Stories,and Rodrigo Rey Rosa's Severina.
Praise For…
---
"Like Flannery O'Connor and Juan Rulfo, Almada fills her taut, eerie novel with an understanding of rural life, loneliness, temptation and faith."—BBC Culture

"Perhaps most powerful in the book is Almada's focus on detail—she skillfully renders the story of a day in brief chapters that reveal the thoughts and fleeting encounters of characters, who are largely living inside themselves."—Ploughshares

"Almada's nuanced approach leaves room to explore her characters' pasts in some detail, but, crucially, these individuals . . . are not defined by their mistakes."—Zyzzyva

"A dynamic introduction to a major Latin American literary force."—Shelf Awareness, starred review

"Argentinian fiction writer and poet Almada makes her English-language debut with a slender tale redolent of Flannery O'Connor. . . . [The Wind That Lays Waste is] fueled by alcohol, religious symbolism, and doubt. . . . The story packs a punch in its portraits of
a man who exalts heaven and another who protests."—Kirkus Reviews

"The drama of this refreshingly unpredictable debut . . . smolders like a lit fuse waiting to touch off its well-orchestrated events. . . . A stimulating, heady story."—Publishers Weekly

"Almada weaves together a quick and tightly told novel. . . . Capturing the soul of rural South America, a place of longstanding truths and pivotal conversions, [The Wind That Lays Waste] is Almada's debut novel and her first work to be translated into English. She's been billed as a 'promising voice' in Latin American literature, and this tale delivers readily on that promise."—Booklist

"The Wind That Lays Waste is elegant and stark, a kind of emblem or vision fetched from the far edges of things, arrested and stripped to its essence, as beautiful as it is unnerving. Selva Almada burns off all the dross and gives us pure revelation, cryptic and true."—Paul Harding, author of Tinkers

"The Wind That Lays Waste is a mesmerizing novel, at once strange and compelling."—Bonnie Jo Campbell, author of Mothers, Tell Your Daughters