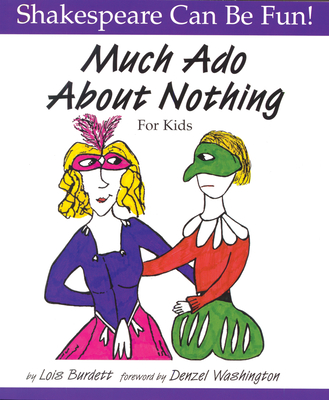 $9.95

Not Currently On The Shelf, But We Can Ship It To You In 3-5 Days
Description
---
"What, my dear Lady Disdain Are you yet living?" These famous lines from Shakespeare's comedy Much Ado About Nothing delightfully show the verbal sparring between the reluctant lovers, Beatrice and Benedick who are happily brought together at the end by the schemes of their friends. And, no story is complete without at least one evil character, Don John, who unsuccessfully tries to tear apart the wedding plans of Hero and Claudio, the other lovers in this sparkling tale.
Written in rhyming couplets, Much Ado About Nothing, the eighth book in this successful series, captures all the exciting elements of the original story, and is truly a delightful read for both adult and child.
Lois Burdett has been a teacher at Hamlet Public School in Stratford, Ontario, for over twenty years and her expertise in bringing Shakespeare to life for children as young as seven is reflected in the children's clever insights and wonderful drawings which complement the play.
Her success has resulted in an ever-increasing demand for workshops as far afield as Europe and Australia where she instructs educators on how they too can familiarize young children with Shakespeare.
From the Foreword by Denzel Washington
" Lois Burdett's] delightfully entertaining text is complemented by her students' thoughtful interpretations and charming artwork which make Much Ado About Nothing come alive in a whole new way."
About the Author
---
Lois Burdett has received many commendations for her work including Encyclopedia Britannica's National Award for Early Childhood Education, Canada's Meritorious Service Medal, the Canadian Teachers' Federation's Hilroy Fellowship and two writers' awards. Her many speaking engagements have included the International Reading Association and the National Council of Teachers of English. Lois Burdett has given children a gift to last a lifetime.