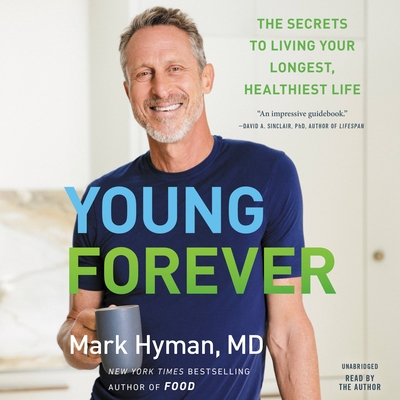 $40.00

Not Currently On The Shelf, But We Can Ship It To You In 3-5 Days
Description
---
Bestselling author Dr. Mark Hyman presents the definitive guide for reversing disease, easing pain, and living younger longer.

Aging has long been considered a normal process. We think disease, frailty, and gradual decline are inevitable parts of life. But they're not. Science today sees aging as a treatable disease. By addressing its root causes we can not only increase our health span and live longer but prevent and reverse the diseases of aging—including heart disease, cancer, diabetes, and dementia.

In Young Forever, Dr. Mark Hyman challenges us to reimagine our biology, health, and the process of aging. To uncover the secrets to longevity, he explores the biological hallmarks of aging, their causes, and their consequences—then shows us how to overcome them with simple dietary, lifestyle, and emerging longevity strategies. You'll learn how to optimize your body's key longevity switches; reduce inflammation and support the health of your immune system; exercise, sleep, and de-stress for healthy aging; and eat your way to a long life, featuring Dr. Hyman's Pegan Diet. You'll also get exclusive insight from Dr. Mark Hyman on which supplements are right for you, where the research on aging is headed, and so much more.

With dozens of science-based strategies and tips, Young Forever is a revolutionary, practical guide to creating and sustaining health—for life.
About the Author
---
Mark Hyman, MD, is the Senior Advisor for Cleveland Clinic's Center for Functional Medicine, board president for clinical affairs for the Institute for Functional Medicine, founder and director of The UltraWellness Center, and host of the leading health podcast, The Doctor's Farmacy. He is the bestselling author of numerous books, including The Pegan Diet; Food Fix; Food; and Eat Fat, Get Thin.
Praise For…
---
"Dr. Hyman is one of our leading Functional Medicine practitioners and teachers. In this vital new book, he integrates the latest science with his personal healing experience and decades of deep clinical insights, outlining a path towards growing older while staying young in body, mind, and spirit. An invigorating, illuminating, and innovative work that will enrich the lives of many."—Gabor Maté, MD, author of The Myth of Normal

"An empowering guide to reversing the hallmarks of aging. Young Forever shows us that we already possess the tools we need to maintain a high quality of life, no matter our chronological age."—Sara Gottfried, MD, New York Times-bestselling author of The Hormone Cure

"Dr. Hyman expertly distills the new research on aging into clear, actionable steps for reversing our biological age that anyone can implement in their daily lives. A must read for everyone aspiring for a long, active life."—Eric Schmidt, former CEO and Chairman of Google

"Young Forever is a new key addition to my collection of books on longevity. In this genuinely life-changing book, Dr. Hyman lays out the blueprint for living longer and healthier than many may have previously thought possible. A great read for all ages!"—Eric Verdin, President and CEO of the Buck Institute for Research on Aging

"Dr. Hyman has once again seized on a trend and written an excellent book. This time it's longevity. Young Forever offers easily digestible science, legitimate advice for living longer, and Mark's consummately readable style."—Dan Buettner, National Geographic Fellow and #1 New York Times-bestselling author of The Blue Zones

"Anyone pursuing a long life of health and happiness must read this book. Young Forever, by my friend Dr. Hyman, will change how you view aging. It will give you hope for living your best life for a very long time."—Wim Hof, New York Times-bestselling author of The Wim Hof Method

"Now more than ever, it's clear aging is modifiable. Dr. Hyman elegantly synthesizes recent scientific advances into actionable insights that can help us turn back the clock, improving our lives and those of our loved ones."—David Furman, PhD, Associate Professor and Director, AI Platform, The Buck Institute for Research on Aging

"If you want to apply the extraordinary recent discoveries as to how to prevent premature aging to your own life, there is no better book! This is a must-read for anyone who strives to create vibrant health throughout a century or more of living."—Jeffrey Bland, PhD, founder of The Institute for Functional Medicine and president of Big Bold Health