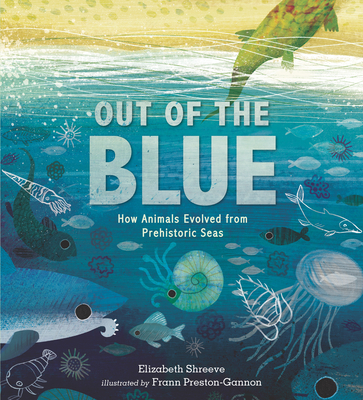 Staff Reviews
---
A wonderful, scientifically accurate, book for kids with an interest in natural science! Out of the Blue takes you from the earliest beginnings of life in the Archean through to modern life. It gives a basic introduction to cladistics with explanations on how physical similarity is not always an indication of close relationship. The art is delightful and builds on the text narrative. This is a must for 6-11 year olds who love dinosaurs, extinct creatures, or animals in general!
— From
What Kathleen Is Reading
Description
---
Graceful, succinct prose and engaging illustrations trace the evolution of life on Earth out of the blue and back again.

Clear and inviting nonfiction prose, vetted by scientists—together with lively illustrations and a time line—narrate how life on Earth emerged "out of the blue." It began in the vast, empty sea when Earth was young. Single-celled microbes too small to see held the promise of all life-forms to come. Those microbes survived billions of years in restless seas until they began to change, to convert sunlight into energy, to produce oxygen until one day—Gulp!—one cell swallowed another, and the race was on. Learn how and why creatures began to emerge from the deep—from the Cambrian Explosion to crustaceans, mollusks to fishes, giant reptiles to the rise of mammals—and how they compare to the animals we know today, in a lively and accessible outing into the prehistoric past that boils a complex subject down to its lyrical essence.
About the Author
---
Elizabeth Shreeve is the author of several books for young readers, including the chapter book series the Adventures of Hector Fuller and two picture books, Captain Freddy Counts Down to School, illustrated by Joey Chou, and Oliver at the Window, illustrated by Candace Hartsough McDonald. She lives in Northern California.

Frann Preston-Gannon is an illustrator, designer, and award-winning author-illustrator. Her books include The Journey Home, The Bad Day, and Dandylion Summer. She was the first UK recipient of a Sendak Fellowship and spent a month learning from renowned illustrator Maurice Sendak. Frann Preston-Gannon lives in London.
Praise For…
---
Shreeve anchors this chronicle of the development of life on Earth with an opening question: Among hippos, dolphins, and sharks, which two are the closest relatives?. . . Increasingly complex creatures fill subsequent pages. Along the bottom margin runs a general time framework beginning with the Archaeon Eon and moving quickly through time. . . Preston-Gannon's cheerful, colorful illustrations show an astonishing variety of creatures, all with circular, white-outlined black eyes. The total package is simple and effective.
—Kirkus Reviews (starred review)

This title explains how life began in the ocean, with surprising information, descriptive details, engaging illustrations, and page turns that propel readers forward. Shreeve and Preston-Gannon offer an interactive reading experience. . . . Throughout the book, the illustrations support and enhance the writing. . . . As the events of the narrative chronicle life and death both in the ocean and on the land, readers can begin to understand the joyous, wondrous, frightening complexity of the creation of life. A book to be read over and over for its intriguing story, illustrations, and captions.
—School Library Journal (starred review)

Shreeve adeptly communicates high-level scientific concepts in just a few paragraphs per page as she highlights key events in the transition from sea to land. . . Preston-Gannon's use of color in the friendly illustrations skillfully represents the climatic conditions in each major era: bright, multicolored spreads of tropical seas filled with animals represent periods of species growth and are interspersed with less hospitable, barren landscapes.
—The Horn Book

This short book guides the reader from the beginnings of life eons ago through to the present day, beginning with an Earth devoid of life and following water-dwelling, single-celled creatures that develop and change as they move "out of the blue" and onto land. The text explains the adaptations that were necessary for animals to live out of the water, as well as how some animals survived (and how others didn't) during the several extinction events that Earth has suffered.
—School Library Connection