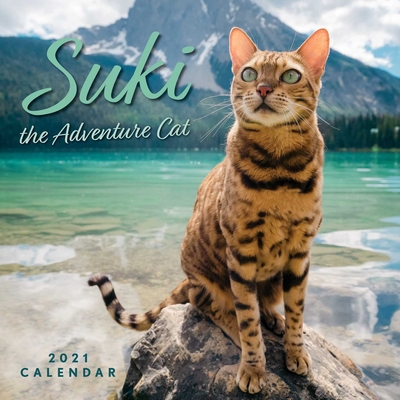 Description
---
Cat lovers will adore taking a year-long scenic journey with Suki the Adventure Cat in this picturesque cat calendar!
Each month features a stunning photo of Suki exploring sights all over the world. From lush forest floors to the top of snowy mountains, sailing over lake waters or hiking rocky trails, Suki loves an excursion! Best known for her Instagram @sukiicat,, the internet-famous Bengal cat travels the world with her humans, Canadian landscape photographers Martina Gutfreund and Kenneth Hildebrandt.
All-new photos not featured in previous calendars
Plenty of room for jotting appointments, birthdays, etc.
Official major world holidays
Bonus spread with September–December 2020, so you can start using the calendar before January 2021
About the Author
---
Martina Gutfreund is a photographer and artist based out of Alberta, Canada. Growing up surrounded by the rugged beauty of the Rocky Mountains has fostered an unstoppable drive for adventure that influences all aspects of her life to this day. Naturally, the yearning for new and exciting experiences has been passed on to her beloved and amazing cat, Suki. Together, they are on a mission to inspire others to kindle their sense of wonder for all that this world has to offer.