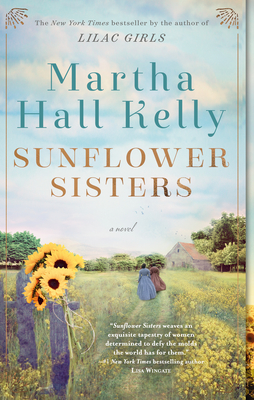 Staff Reviews
---
The third in the installment about the real life philanthropic Ferriday/Woolsey women, Sunflower Sisters is a page turner. As with her previous two novels Kelly engages the reader through three different narrators. This method leads to effective understanding of different sides of a conflict, in this case the Civil War. I enjoyed learning about nursing through Georgy especially her time near Gettysburg and on hospital boats; I loved Jemma, the tenacious, brave slave and Anne-May the cruel plantation owner is a colorful, conniving character. There's a bit on espionage plots, the Underground Railroad, the Irish riots in NYC and deftly shows a country and families torn apart. It is not necessary to have read Lilac Girls or Lost Roses but this will appeal to those readers. Don't skip the author's informative note.
— From
What Karin is Reading
Description
---
NEW YORK TIMES BESTSELLER • Martha Hall Kelly's million-copy bestseller Lilac Girls introduced readers to Caroline Ferriday. Now, in Sunflower Sisters, Kelly tells the story of Ferriday's ancestor Georgeanna Woolsey, a Union nurse during the Civil War whose calling leads her to cross paths with Jemma, a young enslaved girl who is sold off and conscripted into the army, and Anne-May Wilson, a Southern plantation mistress whose husband enlists.

"An exquisite tapestry of women determined to defy the molds the world has for them."—Lisa Wingate, #1 New York Times bestselling author of Before We Were Yours

Georgeanna "Georgey" Woolsey isn't meant for the world of lavish parties and the demure attitudes of women of her stature. So when war ignites the nation, Georgey follows her passion for nursing during a time when doctors considered women on the battlefront a bother. In proving them wrong, she and her sister Eliza venture from New York to Washington, D.C., to Gettysburg and witness the unparalleled horrors of slavery as they become involved in the war effort.

In the South, Jemma is enslaved on the Peeler Plantation in Maryland, where she lives with her mother and father. Her sister, Patience, is enslaved on the plantation next door, and both live in fear of LeBaron, an abusive overseer who tracks their every move. When Jemma is sold by the cruel plantation mistress Anne-May at the same time the Union army comes through, she sees a chance to finally escape—but only by abandoning the family she loves.

Anne-May is left behind to run Peeler Plantation when her husband joins the Union army and her cherished brother enlists with the Confederates. In charge of the household, she uses the opportunity to follow her own ambitions and is drawn into a secret Southern network of spies, finally exposing herself to the fate she deserves.

Inspired by true accounts, Sunflower Sisters provides a vivid, detailed look at the Civil War experience, from the barbaric and inhumane plantations, to a war-torn New York City, to the horrors of the battlefield. It's a sweeping story of women caught in a country on the brink of collapse, in a society grappling with nationalism and unthinkable racial cruelty, a story still so relevant today.
About the Author
---
Martha Hall Kelly is the New York Times bestselling author of Lilac Girls and Lost Roses. She lives in Connecticut, where she spends her days filling legal pads with stories and reading World War II books.
Praise For…
---
"A beautifully written, intricately researched window into the lives of women in a world we can scarcely imagine today . . . Sunflower Sisters took me on a journey that swept me up in its pages and left me pondering deeper truths in the end. It's a read filled with sisterhood, risk, reward, and plenty of fodder for book clubs."—Entertainment Weekly

"Kelly's prose flows beautifully across every page, bringing to life the women impacted by the horrific war that tore apart the country and countless families. . . . Much of Sunflower Sisters is heartbreaking . . . but there is also much hope and joy in the courage, fortitude and victories of those courageous and determined to succeed and survive."—Fredericksburg Free Lance-Star

"A well-researched, realistic narrative . . . It's the women and their activism that tell the story of the struggle to end slavery. They become the real heroes of the war. Kelly tells this story without either romanticizing or sweeping over the horrors that split the nation in the nineteenth century and continues to do so today."—The Spokesman-Review

"From Southern spies to nurses on the northern battlefields, Sunflower Sisters weaves an exquisite tapestry of women determined to defy the molds the world has for them. The journeys of Jemma and the Woolsey sisters will have readers celebrating those who came before us, who fought for what they knew was right, and became timeless women ahead of their times."—Lisa Wingate, #1 New York Times bestselling author of Before We Were Yours and The Book of Lost Friends

"Sunflower Sisters marks the third installment of Martha Hall Kelly's tales of the formidable Woolsey Women, with this chapter unfolding across the plantations, battlefields, and parlor rooms of one of history's most dramatic moments. The Civil War roils as a sweeping backdrop and an era of both heartbreaking and inspiring humanity. Kelly's vivid prose, stunning historical research, and heartfelt, compelling characters make this a gripping, page-turning read."—Allison Pataki, New York Times bestselling author of The Queen's Fortune

"Vibrant . . . The vivid, impeccably researched saga briskly sweeps across war-torn battlefields, New York City, and Southern plantations, highlighting the struggles endured by her women characters. This page-turning work is sure to please Kelly's fans."—Publishers Weekly

"Kelly weaves a far-ranging tale of interlocking destinies and moving displays of kindness and bravery. . . . This emotionally satisfying novel will please Kelly's many fans and will be a strong addition to historical fiction collections."—Library Journal

"As well researched and engaging as Lost Roses and Lilac Girls . . . Drawing on real events and primary sources, Kelly illuminates parts of history infrequently told. Offer it to fans of Marie Benedict, the Civil War era, and readers who enjoy historical fiction starring real people."—Booklist