Song for a Whale (Hardcover)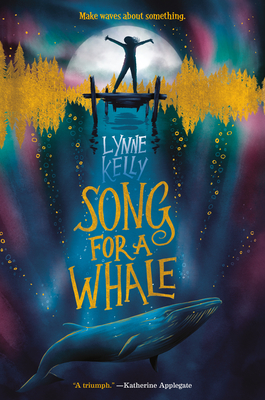 Staff Reviews
---
One day in her science class Iris, the only deaf student in her class, learns about Blue 55, a whale who can't communicate with other whales. She uses the skills she's gained from fixing radios to make a song for Blue 55 and travels all the way to Alaska to let him know hes not alone. Song for a Whale is about the journey one girl takes in order to connect with a whale who has no one else; I absolutely loved it! Its great for fans of Insignificant events in the Life of a Cactus and Katherine Applegate.
— From
What Ali Is Reading
Description
---
In the spirit of modern-day classics like Fish in a Tree and Counting by 7s comes the story of a deaf girl's connection to a whale whose song can't be heard by his species, and the journey she takes to help him.

From fixing the class computer to repairing old radios, twelve-year-old Iris is a tech genius. But she's the only deaf person in her school, so people often treat her like she's not very smart. If you've ever felt like no one was listening to you, then you know how hard that can be.

When she learns about Blue 55, a real whale who is unable to speak to other whales, Iris understands how he must feel. Then she has an idea: she should invent a way to "sing" to him! But he's three thousand miles away. How will she play her song for him?

Full of heart and poignancy, this affecting story by sign language interpreter Lynne Kelly shows how a little determination can make big waves.

"Fascinating, brave, and tender...a triumph." --Katherine Applegate, Newbery Award-winning author of The One and Only Ivan

"Beautifully written and such an important story for kids with big struggles in their lives. I fell into Iris's world from the first chapter. Lynne Kelly does an amazing job telling the story from Iris's perspective." --Millicent Simmonds, actress, Wonderstruck and A Quiet Place

"Quick-moving, suspenseful...this remains a satisfying, energetic read. Iris' adventures will engross readers." --Kirkus Reviews

"This finely crafted novel affectingly illuminates issues of loneliness, belonging, and the power of communication." --Publishers Weekly
About the Author
---
Lynne Kelly has always loved reading, but while working as a special education teacher, she fell in love with children's literature all over again. She lives in Houston, Texas, and works as a sign language interpreter while writing books for kids. Her first book, Chained, was a South Asia Book Award Honor and Crystal Kite Award winner. Song for a Whale is her second novel. Find her online at http://lynnekellybooks.com/wordpress and on Twitter at @LynneKelly.
Praise For…
---
"At its luminous heart, Song for a Whale is a tale about longing for connection and finding it in the most magical and unexpected of places. Fascinating, brave and tender, this is a story like no other about a song like no other. A triumph." —Katherine Applegate, Newbery Award-winning author of The One and Only Ivan

"Song for a Whale is beautifully written and is such an important story for kids with big struggles in their lives.  I fell into Iris's world from the first chapter.  Lynne Kelly does an amazing job telling the story from Iris's perspective." —Millicent Simmonds, actress, Wonderstruck and A Quiet Place

"A quick-moving, suspenseful plot takes her from junkyards to a cruise ship as she [Iris] gains the confidence to stand up for herself and take control of her life. Written by a sign-language interpreter, this story incorporates important elements of Deaf culture and the expansiveness and richness of ASL...this remains a satisfying, energetic read. Iris' adventures will engross readers." —Kirkus Reviews

"The strength of the book is its strong portrayal of Iris as a deaf girl in a hearing world and an intelligent 12-year-old in headlong, single-minded pursuit of her goal." —Booklist

"Subtly and poignantly drawing a parallel between the girl and whale, Kelly (Chained), who has worked as a sign language interpreter, relays Iris's venture with credibility and urgency. This finely crafted novel affectingly illuminates issues of loneliness, belonging, and the power of communication." —Publishers Weekly

"Iris's depth of empathy, the joy she feels working with radios, and the skillful way she navigates two different worlds of communication create an authenticity that will resonate with Deaf and hearing readers alike... An uplifting tale that's a solid addition to most collections; especially recommended for libraries needing stronger representation of Deaf protagonists." —SLJ