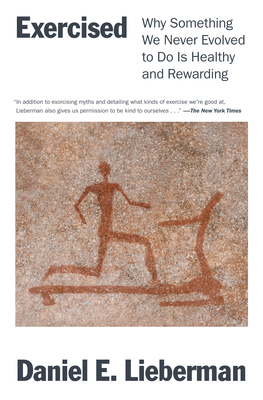 $29.95
Email or call for price.
Staff Reviews
---
There are many arguments for and against exercise. Lieberman strikes a balance between the two extremes, making the argument that we need both exercise and rest. He goes through the various benefits of exercise and dispels many myths about exercise and human evolution. The book goes through the effects of inactivity and the various types of activity (eg. those that require strength vs those that require endurance) Lieberman then uses evolutionary strategies to suggest ways to improve our modern ways of exercising. This book is written in an approachable, engaging manner that above all doesn't shame those that have difficulty with continuing an exercise program. This is a great book for anyone with an interest in human evolution, exercise, the human body, or who just wants to know why they don't like to run.
— From
What Kathleen Is Reading
Description
---
If exercise is healthy (so good for you!), why do many people dislike or avoid it? These engaging stories and explanations will revolutionize the way you think about exercising—not to mention sitting, sleeping, sprinting, weight lifting, playing, fighting, walking, jogging, and even dancing.

"Strikes a perfect balance of scholarship, wit, and enthusiasm." —Bill Bryson, New York Times best-selling author of The Body

• If we are born to walk and run, why do most of us take it easy whenever possible?
• Does running ruin your knees?
• Should we do weights, cardio, or high-intensity training?
• Is sitting really the new smoking?
• Can you lose weight by walking?
• And how do we make sense of the conflicting, anxiety-inducing information about rest, physical activity, and exercise with which we are bombarded?

In this myth-busting book, Daniel Lieberman, professor of human evolutionary biology at Harvard University and a pioneering researcher on the evolution of human physical activity, tells the story of how we never evolved to exercise—to do voluntary physical activity for the sake of health. Using his own research and experiences throughout the world, Lieberman recounts without jargon how and why humans evolved to walk, run, dig, and do other necessary and rewarding physical activities while avoiding needless exertion.

Exercised is entertaining and enlightening but also constructive. As our increasingly sedentary lifestyles have contributed to skyrocketing rates of obesity and diseases such as diabetes, Lieberman audaciously argues that to become more active we need to do more than medicalize and commodify exercise.

Drawing on insights from evolutionary biology and anthropology, Lieberman suggests how we can make exercise more enjoyable, rather than shaming and blaming people for avoiding it. He also tackles the question of whether you can exercise too much, even as he explains why exercise can reduce our vulnerability to the diseases mostly likely to make us sick and kill us.
About the Author
---
DANIEL E. LIEBERMAN is Edwin M. Lerner Professor of Biological Sciences and professor of human evolutionary biology at Harvard University. He is the author of the national best seller The Story of the Human Body: Evolution, Health, and Disease and Exercised: Why Something We Never Evolved to Do Is Healthy and Rearding. He lives in Cambridge, Massachusetts.
Praise For…
---
"Lieberman's inquisitiveness as both a researcher and a fitful fitness adherent allows him a distinct vantage on the subject... Drawing on his expertise and knowledge of the way evolutionary forces work, [Lieberman] takes ideas that have been spun and spun again, often based on shaky information, and cracks them open... In addition to exorcising myths and detailing what kinds of exercise we're good at, as well as why these particular activities matter for our physical well-being, Lieberman also gives us permission to be kind to ourselves if we'd rather not bother... Most important, Lieberman doesn't judge those who find exercising difficult, even after knowing that they should be doing it, because exercise still isn't all that fun."
—The New York Times

"Exercised makes important progress in the research topic for which Mr. Lieberman himself has become best known—the physiology of human running... my favorite passage of the book concerns dancing. Dance in many societies is a physical activity connected to ritual, a highly social activity with deep symbolic meaning to its participants. It reminds us that beauty, joy and rites of passage are central to human life, and that physical activity can be exuberant and ecstatic... I find Mr. Lieberman's voice of moderation to be welcome in a world where barefoot running and paleo diets have become fads... Instead of looking to a mythological view of our evolutionary past, we should be looking around us at a broader array of real humans, all of them moving—happily—through their lives. Getting Exercised is a start."
—The Wall Street Journal

"Riveting... Highly appealing... Lieberman begins a process of myth-busting about exercise... An irresistible aspect of Exercised is Lieberman's firm stance that no shame or stigma be attached to those who find it challenging to sustain an exercise program... Another exceptionally informative part of the book discusses the damage-and-repair cycle brought on by exercise. Lieberman explains more clearly than I've ever read what exercise does to the body, and how the body then begins to repair itself afterwards... Lieberman makes a superb guide for anyone wishing to understand why it can be hard to commit to exercising, and why we should do it anyway."
—NPR

"Lieberman's clarity never wavers... His answers to physiological questions... inspire... The science beneath his arguments is revelatory, with thrilling implications for evolutionary biology. Written in a brisk prose, with ample graphs, Exercised is an excellent compendium on the broad medical advantages of exercise and a roadmap out of our pandemic to better health."
—The Boston Globe

"Entertaining and informative...The book is full of helpful tips... conveyed in a humorous and sympathetic style."
—The Guardian

"Persuasive... Refreshing... [Lieberman's] illuminating and frequently humorous work will delight fitness mavens and make those pesky workout sessions more rewarding for everyone else."
—Publishers Weekly

"Brilliant...This makes for captivating reading."
—Booklist [starred review]

"A good choice for those seeking a macro view of the history of movement... In appealing, accessible language, the author tells interesting stories."
—Kirkus

"Lieberman writes in a clear, approachable style, even when explaining complex research and concepts. "
—Library Journal
 
"Endlessly fascinating and full of surprises. Daniel Lieberman strikes a perfect balance of scholarship, wit, and enthusiasm for his subject. This is easily one of my favorite books of the year."
—Bill Bryson, New York Times best-selling author of A Walk in the Woods and The Body 

"Mythbusting, illuminating, brilliant – Daniel Lieberman will completely change the way you think about your body"
—Alice Roberts, presenter of Our Incredible Human Journey

"Were we born to run, to walk, or to sit on a couch?  One of our leading human biologists takes us through millions of years of evolution and diverse cultures around the planet to give us surprising, yet simple, answers. Part user manual for the human body and part detective story exploring our evolution, Exercised will change the way you think about exercise, diet, and your own well-being."
—Neil Shubin, Robert R. Bensley Distinguished Service Professor of Organismal Biology and Anatomy, University of Chicago, and best-selling author of Your Inner Fish

"Excellent. Well-written, amusing, and touching on all our lives. Seldom if ever have I so enjoyed reading a book on any subject, and this one is for all of us—those of us who like to exercise and those of us who don't."
—Richard Leakey, co-author of Origins Reconsidered: In Search of What Makes Us Human

"Fantastic. Such a surprising, erudite, and revelatory look at the natural history of physical activity and why exercise is both so necessary for us and so unnatural. It expands and alters our understanding of exercise, health, motivation, and why we feel the way that we do about treadmills. A must-read for anyone with a working body and mind."
—Gretchen Reynolds, New York Times best-selling author of The First 20 Minutes

"In his earlier work, Lieberman explained how we were 'born to run.' In Exercised, he explains that we were also born to sit, which often leads to obesity, diabetes, high blood pressure, and heart attacks—chronic diseases unknown to early humans. Fortunately, Exercised also explains how physical activity can set us free from these ills. It's both a fascinating read and one that could nudge you toward a healthier (and longer) life."
—Amby Burfoot, editor-at-large, Runner's World, and winner of the 1968 Boston Marathon