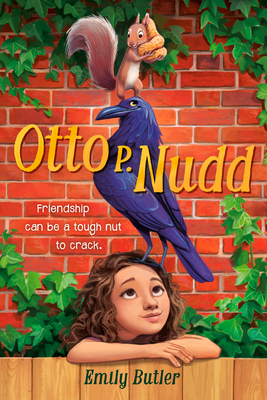 Staff Reviews
---
"Did you know there's a difference between a raven and a crow? I didn't until the narrator, Otto P. Nudd, sets the record straight in this new middle grade tale. According to Otto, ravens are superior, of course; and he is the BEST of all birds in Ida Valley…a self-proclaimed genius.
What makes him special? True to a raven's nature, he is an inventor and teams up with his elderly human neighbor, Old Man Bartleby to fashion unique gadgets. Bartleby is determined to fly—it's on his bucket list and time is running short. As his friend's accomplice, Otto plans to help launch their latest flying contraption, but Bartleby is too eager and goes solo. A disastrous crash leaves the old man unconscious and locked inside his workshop in dire need of rescue.
How can Otto be the hero? For the first time ever, he must step off his pedestal, admit his own limitations and reach out for help. That's quite humbling for this Top Raven, but he teams up with Pippa (Bartleby's young next-door neighbor), Marla (the clever, pesky mama squirrel bent on ruining Otto's life), and a motley crew of birds of every shape and sort who prove their worth.
In saving Bartleby, Otto saves himself and gains new friends. He learns about the power of teamwork, sharing, acceptance, and even apologies to bring everyone together.
A witty, warm read for all animal lovers…with a generous serving of wisdom for perceptive readers
Sandy Ferguson Fuller"
— From
What Sandy is Reading
Description
---
Fans of The Tales of Despereaux, Pax, and Crenshaw will delight over this friendship story about a brash raven, a dutiful squirrel, and the human girl that brings them together. The perfect read for animal lovers.

Otto P. Nudd: Tthe BEST bird in Ida Valley (at least according to him). While his buddies waste their days at the dump cracking jokes, Otto invents things with his human neighbor Old Man Bartleby in their workshop.

Marla: The Competition. This protective mama-squirrel will swipe Otto's snacks from under his beak if it means another meal for her babies!

Pippa: The girl who loves the birds in Ida Valley, and Otto most of all. But when Bartleby''s latest contraption lands him in danger, the whole neighborhood--kids and critters alike--will have to join forces to save their oldest friend!

Author Emily Butler delivers a timeless friendship tale about a brash raven, a crafty squirrel, and the neighborhood that brings them together.
About the Author
---
Emily Butler is the eldest of seven children and grew up hiding behind the sofa so that she could read her books in peace and quiet. (It was never quiet.) She finished high school in Brazil, worked on a kibbutz in Israel, practiced law in New York City, catered weddings in London--and was never without a book in her backpack or briefcase. Emily recently moved to Utah with her husband. They live in an old house that is stuffed to the gills with three lovely but disobedient children, and every sort of book. Find her online at emilybutlerbooks.com or @emilyhbutler.
Praise For…
---
"This animal adventure is perfect for fans of Babe: The Gallant Pig author Dick King-Smith." -School Library Journal

"Readers will be drawn into the unstoppable excitement of the chase and may learn a few lessons in social behavior as well as a little science along the way...An original offering." -Kirkus Reviews