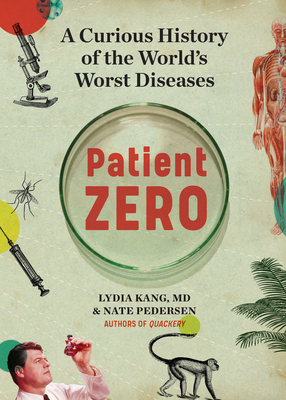 Staff Reviews
---
A fascinating look into the history of epidemics! Kang and Pederson utilize their signature mix of lively storytelling and accessibly-written science to give us the history of 21 of the world's worst outbreaks. From the Bubonic Plague to Ebola as well as the similarities and differences between our current situation and the 1918 Influenza pandemic. The authors go through historic "Patient Zeros", the way diseases spread, and science's fight to end them before they kill everyone. I would recommend this to anyone with an interest in epidemiology, medical science, or good storytelling about humanity!
— From
What Kathleen Is Reading
Description
---
From the masters of storytelling-meets-science and co-authors of Quackery, Patient Zero tells the long and fascinating history of disease outbreaks—how they start, how they spread, the science that lets us understand them, and how we race to destroy them before they destroy us.

Written in the authors' lively and accessible style, chapters include page-turning medical stories about a particular disease or virus—smallpox, Bubonic plague, polio, HIV—that combine "Patient Zero" narratives, or the human stories behind outbreaks, with historical examinations of missteps, milestones, scientific theories, and more.

Learn the tragic stories of Patient Zeros throughout history, such as Mabalo Lokela, who contracted Ebola while on vacation in 1976, and the Lewis Baby on London's Broad Street, the first to catch cholera in an 1854 outbreak that led to a major medical breakthrough. Interspersed are origin stories of a different sort—how a rye fungus in 1951 turned a small village in France into a phantasmagoric scene reminiscent of Burning Man. Plus the uneasy history of human autopsy, how the HIV virus has been with us for at least a century, and more.
About the Author
---
Lydia Kang, MD, is a practicing internal medicine physician and author of young adult fiction and adult fiction. Her YA novels include Control, Catalyst, and the upcoming The November Girl. Her adult fiction debut is entitled A Beautiful Poison. Her nonfiction has been published in JAMA, the Annals of Internal Medicine, and the Journal of General Internal Medicine.

This author is represented by the Hachette Speakers Bureau.
Nate Pedersen is a librarian, historian, and freelance journalist with over 400 publications in print and online, including in the Guardian, the Believer, the San Francisco Chronicle, and the Art of Manliness.
Praise For…
---
"[A] rich and thought-provoking book... It's also a profound reconsideration of our common understanding of our most famous stories of sickness and science."
—Salon.com

"A thorough and morbidly funny study of some of the world's deadliest diseases… Readers will be swept away by this energetic and enlightening survey"
—Publishers Weekly, starred review
 
"If only my AP Bio textbook had been so fun. From Mad Cow to Monkeypox, here's everything you wanted to know about the diseases you're glad you don't have. Hopefully!"
—Mo Rocca, author of Mobituaries
 
"Some of these stories read like gripping crime novels, some like Victorian tragedies, and some like futuristic thrillers. Patient Zero is essential and—dare I say it—entertaining reading."
—Amy Stewart, author of The Drunken Botanist and Wicked Plants
 
"A fascinating foray into the etiology of fevers, flus, and other foul febrilities."
—James Nestor, New York Times bestselling author of Breath: The New Science of a Lost Art
 
"Patient Zero offers an encyclopedic presentation of historic outbreaks that tell fascinating and fast-moving tales of courage, tragedy, and loss (of life, of limbs, of freedom…of noses)."
—Dr. Brandy Schillace, author of Mr. Humbleand Dr. Butcher
 
"There is something here to astound even the most seasoned medical historian. I found myself utterly engrossed."
—Dr. Lindsey Fitzharris, author of The Butchering Art