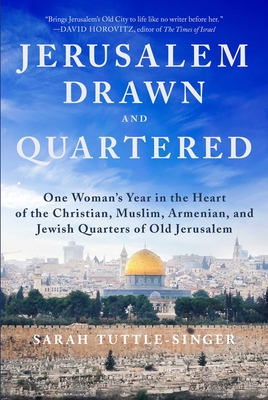 $24.99
Email or call for price.
Description
---
"Sarah Tuttle-Singer brings Jerusalem's Old City to life like no writer before her?penning a ferocious love letter that will infuriate zealots and enthrall most everybody else. . . .Ultimately a plea for Jerusalem, as she puts it, not to be 'ripped to ragged pieces by those who say they love her the best.'"?David Horovitz, Editor, The Times of Israel

On a night in 1999 when Sarah Tuttle-Singer was barely 18, she was stoned by Palestinian kids just outside one of the gates to the Old City of Jerusalem. In the years that followed, she was terrified to explore the ancient city she so loved.

But, sick of living in fear, she has now chosen to live within the Old City's walls, right at the heart of the four quarters: Christian, Muslim, Armenian, and Jewish.

Jerusalem's Old City is the hottest piece of spiritual real estate in the world. For millennia empires have clashed and crumbled over this place. Today, the conflict between Israelis and Palestinians plays out daily in her streets, and the ancient stones run with blood. But it's also an ordinary city, where people buy vegetables, and sooth colicky babies, where pipes break, where the pious get high, and young couples sneak away to kiss in the shadows.

Sarah has thrown herself into the maelstrom of living in each quarter—where time is measured in Sabbath sunsets and morning bells and calls to prayer, in stabbing attacks and check points—keeping the holidays in each quarter, buying bread from the same bread seller, making friends with people who were once her enemies, and learning some of the secrets and sharing the stories that make Jerusalem so special, and so exquisitely ordinary.

Jerusalem, Drawn and Quartered is a book for anyone who's wondered who really lives in Israel, and how they coexist. It's a book that skillfully weaves the personal and political, the heartwarming and the heart-stopping. It's a book that only Sarah Tuttle-Singer can write. The Old City of Jerusalem may be set in stone, but it's always changing—and these pages capture that.
About the Author
---
Sarah Tuttle-Singer is a widely-read writer for Time, Kveller, and Times of Israel and the new media editor at Times of Israel, the largest online newspaper covering the Jewish world. She is an LA expat currently growing roots in Israel, where she lives with her two children. She speaks internationally and recently received a prestigious ROI fellowship grant from the Schusterman Foundation. She lives in Jerusalem, Israel.
Praise For…
---
"Sarah Tuttle-Singer has taken her experiences of the city of Jerusalem and crafted a masterpiece of her heart. Sarah's distinctive voice will give you the chills on every single page as she celebrates the beauty of Jerusalem while detailing the complexity of loving a city so embattled, so diverse, and so difficult. This book is simultaneously a love letter and a declaration of frustration; a poem and a song; a masterpiece of confusion and undying affection." —Mayim Bialik

"Sarah Tuttle-Singer's book is a real love story, maybe even a love song, for the city of Jerusalem. In this brilliant and fascinating book, Tuttle-Singer brings us Jerusalem in all its ugliness and beauty, darkness and light, bad and good. With the honest, funny, and sad stories of her life and of the city, one can not stop reading until the end." —Avi Issacharoff, journalist and co-creator of the hit TV series "Fauda"

"Raw, dark, funny, this book brings you closer to the truth of the Old City today than any other I've read. Sarah Tuttle-Singer captures the sensuality, anger, and promise of the Holy City in a narrative that moves from one incredible true story to another. Her pilgrimage is intimate, irreverent, unashamed—and written with haunting beauty." —Rob Eshman, former editor in chief of the Jewish Journal

"An intimate, bracingly honest, beautifully written memoir of life in the most captivating city in the world." —Peter Beinart, author, The Crisis of Zionism

"Sarah Tuttle-Singer, who loves Jerusalem passionately, offers us an unvarnished, intimate, and sometimes shocking look at life within the walls of the Old City. Her stories of modern existence in ancient Jerusalem come to life through in-depth portraits of this historic city's residents. In spite of the fact that perspectives are deeply polarized, and fear and interpersonal conflict are a constant reality, Sarah Tuttle-Singer gives us the 'real dirt' that shows us that co-existence is not only possible but happening each and every day. This is a hard-hitting book about hope that offers us glimmers of humanity that can help us imagine a time of peace and acceptance that, today, seems so far away." —Peter Yarrow (Peter, Paul & Mary)

"Sarah Tuttle Singer has written a brave, honest, and fiercely personal love letter to Jerusalem. Whether you've lived there your whole life or have never been, she is the tour guide you want to the world's most beautiful and broken city." —Daniel Sokatch, CEO of the New Israel Fund

"Dangerous. Seductive. Laugh out loud funny. Sarah Tuttle-Singer has created a savvy and sexy Innocents Abroad for the internet age. Tuttle-Singer's stories are at once wildly original yet vaguely familiar, weaving nostalgia for her former life as a free-spirited moppet on Venice Beach with indefatigable optimism for peace in Jerusalem, her adopted ancestral home. Jerusalem Drawn and Quartered is a revelation and the best of the new voices covering the world's most maddening conflict: the millennial struggle for the Holy Land." —James Oppenheim, co-founder and lover-in-chief of Crave Gourmet Street Food

"Part searing personal memoir, part psychic and political exploration, this is Jerusalem's Song of Songs, an exquisitely written love poem to a city at the centre of many universes. It also marks the debut of a major new talent. Sarah Tuttle-Singer is a force to be reckoned with." —David Rose, contributing editor with Vanity Fair and a special investigations writer for The Mail on Sunday

"Beautiful, intense, mad, exhilarating: Sarah Tuttle-Singer hasn't just written a terrific book about Jerusalem, she's written a book that is now a part of Jerusalem. Taking us through the back alleys of the Old City, she introduces us to its world-class characters, their dreams and fears and most of all daily lives. In Sarah Tuttle-Singer, earthy Jerusalem has found its lover." —Yossi Klein Halevi, author, Letters to My Palestinian Neighbor

"If you love Jerusalem, you will love this book. Sarah Tuttle-Singer in her life love affair with the city, new and old, people from across the political and religious divide brings it all together like only Sarah could. Jerusalem Drawn and Quartered is a rollercoaster of culture, senses, emotions, and experiences. It reads like a diary, a very personal diary with dark secrets, but reflects the holy city that is so much for so many and has so many secrets of its own." —Lieutenant Colonel Peter Lerner, retired IDF spokesperson

"No city shines and shimmers like Jerusalem, and no city pierces and burns like her. Sarah Tuttle-Singer, in her lyric and soulful prose, captures both the light and the shadows, the holiness and the heaviness, of one of the world's most magnificent, maddening places. In a bold and deeply personal journey, she searches bustling alleyways and ancient stones, intimate rooms and holy texts, to unlock the secrets to Jerusalem's beauty, energy, and pain, which are found, most of all, in the souls of its inhabitants." —Daniel B. Shapiro, Former U.S. Ambassador to Israel

"Jerusalem Drawn and Quartered is a vivid evocation of the city in all its contradictions, showing its Jews and Arabs with their mutual fears and hatreds and contempt that do not altogether preclude moments of shared humanity. The story of the city is also the story of Sarah Tuttle-Singer, which is told affectingly, with unblinking honesty." —Robert Alter, author of The Art of Biblical Narrative

"Sarah Tuttle-Singer brings Jerusalem's Old City to life like no writer before her—penning a ferocious love letter that will infuriate zealots and enthrall most everybody else. . . . Written with too much real-world knowledge to be easily dismissed by more conventional experts, Tuttle-Singer's book is ultimately a plea for Jerusalem, as she puts it, not to be 'ripped to ragged pieces by those who say they love her the best.' If there were more Jerusalemites like her, that simple, elusive aspiration might even be realized." —David Horovitz, Editor, The Times of Israel