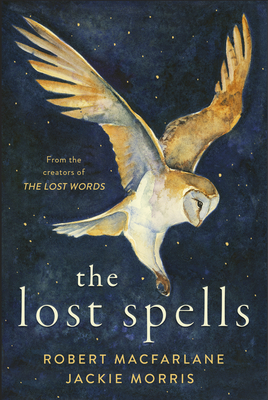 Staff Reviews
---
"What a delight to wander through 120 pages of this compact (5X7) showcase of nature, poetry and watercolor! Also works as a mini coffee table book! This is a perfect gift for anyone who appreciates any or all of the above…MacFarlane and Morris have created a beautiful collaboration.
So many familiar and lesser-known fauna and flora make an appearance…no surprise, my favorite is the Red Fox who captures the beginning and ending verses in the collection. But the Barn Owl, the Snow Hare, the Brilliant Goldfinch and the Common Daisy claim a close second. You will encounter a plethora of moth species and bunches of butterflies, as well as birch, oak and ash trees. An elegant Egret, a sleek Curlew, a crafty Jay and a plain Wren soar through the lyrical spreads. They travel beneath the sun, full moon or starry sky, and the four seasons…at the illustrator's whim.
MacFarlane is known for his way with words and his devotion to nature and to children. Morris has written and Illustrated over 40 books and reaps her inspiration from everything wild. Her art is reminiscent of Rien Poorvliet but she offers her own signature style. This talented British author-illustrator team captivate us in THE LOST SPELLS.
You can judge this book by its cover, but what's inside is even better! Savor it.
Sandy Ferguson Fuller"
— From
What Sandy is Reading
Description
---
Since its publication in 2017, The Lost Words has enchanted readers with its poetry and illustrations of the natural world. Now, The Lost Spells, a book kindred in spirit and tone, continues to re-wild the lives of children and adults.

The Lost Spells evokes the wonder of everyday nature, conjuring up red foxes, birch trees, jackdaws, and more in poems and illustrations that flow between the pages and into readers' minds. Robert Macfarlane's spell-poems and Jackie Morris's watercolour illustrations are musical and magical: these are summoning spells, words of recollection, charms of protection. To read The Lost Spells is to see anew the natural world within our grasp and to be reminded of what happens when we allow it to slip away.