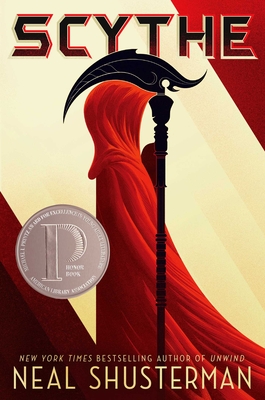 Staff Reviews
---
Death is just a memory. In this post-mortality world, there is no disease, no sickness and no pain. The only death this world sees is intentionally brought at random by a group of chosen individuals known as Scythes. They are groomed to be compassionate, empathetic and impartial in their gleanings. The world seems to be a better place, but the seeds of corruption can still grow deep. Fantastic, unique story!
— From
What Sarah is reading
Scythe by Neal Shusterman is an intriguing book about a future of humanity and the nature of mankind. It makes the reader think about life and death, while also bringing in twist and turns throughout the book. My book club is currently reading it and loving it, I am sure you will too! I would give it a 4/5. -- Zoey
Reading this book had me kind of freaked out. The story takes place in a futuristic world where human beings have conquered everything; global warming, illness, weather… even death. However, to keep the population at bay, Scythes are trained to 'glean' people at random, regardless of age or status. Citra and Rowan are both apprentices bearing the weight of what they must grow to do, when they discover the corruption in the ranks of the world's Scythdom. How easy is it to abuse power, when the world relies so heavily on you and your own? This book is a chilling glance at a future that is both idyllic and horrifying, honest and false. -- Maya
— From
Student Reviews
Description
---
Two teens must learn the "art of killing" in this Printz Honor–winning book, the first in a chilling new series from Neal Shusterman, author of the New York Times bestselling Unwind dystology.

A world with no hunger, no disease, no war, no misery: humanity has conquered all those things, and has even conquered death. Now Scythes are the only ones who can end life—and they are commanded to do so, in order to keep the size of the population under control.

Citra and Rowan are chosen to apprentice to a scythe—a role that neither wants. These teens must master the "art" of taking life, knowing that the consequence of failure could mean losing their own.

Scythe is the first novel of a thrilling new series by National Book Award–winning author Neal Shusterman in which Citra and Rowan learn that a perfect world comes only with a heavy price.
About the Author
---
Neal Shusterman is the New York Times bestselling author of more than thirty award-winning books for children, teens, and adults, including the Unwind dystology, the Skinjacker trilogy, Downsiders, and Challenger Deep, which won the National Book Award. Scythe, the first book in his latest series, Arc of a Scythe, is a Michael L. Printz Honor Book. He also writes screenplays for motion pictures and television shows. Neal is the father of four, all of whom are talented writers and artists themselves. Visit Neal at StoryMan.com and Facebook.com/NealShusterman.
Praise For…
---
"Elegant and elegiac, brooding but imbued with gallows humor, Shusterman's dark tale thrusts realistic, likeable teens into a surreal situation and raises deep philosophic questions. A thoughtful and thrilling story of life, death, and meaning."
— Kirkus Reviews

"Shusterman is no stranger to pushing boundaries. Scythe owes an obvious debt to Unwind (2007) and its

sequels, and this succeeds as a sort of shadow companion to Patrick Ness' Chaos Walking trilogy: instead

of exploring the ways in which men are monsters, this deals in what happens to men when there are no

monsters. When our reach does not exceed our grasp, when comfort is more easily obtained than struggle,

when our essential humanity doesn't burn out but becomes slowly irrelevant, what becomes of us?

Readers will find many things in these pages. Answers to such unsettling questions will not be among

them."
— Maggie Reagan