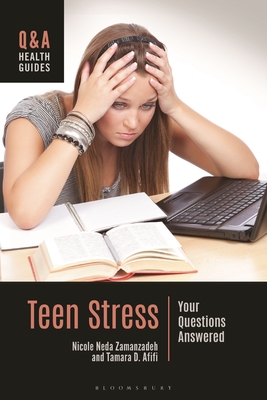 Description
---
Overscheduling, the pressure to get into a good college, bullying, body image, conflicts with friends, and social media are just a few of the many sources of stress for today's teens. And, while teens may face just as many, if not more, stressors than adults, they are less likely to have the coping mechanisms and stress management tools needed to effectively combat the stress they feel.
Part of Greenwood's Q&A Health Guides series, Teen Stress: Your Questions Answered follows a reader-friendly question-and-answer format that anticipates readers' needs and concerns. Prevalent myths and misconceptions are identified and dispelled, and a collection of case studies illustrates key concepts and issues through relatable stories and insightful recommendations. Each book in the series also includes a section on health literacy, equipping teens and young adults with practical tools and strategies for finding, evaluating, and using credible sources of health information both on and off the internet--important skills that contribute to a lifetime of healthy decision-making.
About the Author
---
Nicole Neda Zamanzadeh, PhD, earned her doctorate in communication at the University of California, Santa Barbara. Her research has focused on adolescents' relationships with their technology, family, and romantic partners.Tamara D. Afifi, PhD, is professor in the department of communication at the University of California, Santa Barbara. Her research focuses on communication patterns that foster resilience and thriving in families and other interpersonal relationships.