The Kitchen House: A Novel (Paperback)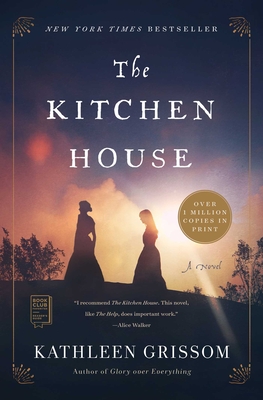 Staff Reviews
---
Lavinia, an Irish orphan, is sent to work on a wealthy plantation owner's home. Sent to the kitchen house, she becomes part of the black family and bonds with them. This is a tragic story of love, loyalty and family ties. This is a must read for people who enjoy stories of the old south during the 17 and 1800s.
— From
What Susan is Reading
Winter 2011 Reading Group List
---
"A perfect book for reading groups, The Kitchen House makes the reader ponder issues of race in a reverse way, as we see what life was like for Irish orphan Lavinia within the servant community of a tobacco plantation. With characters that are both wonderful and horrible, this is a book that continues to make me think about human nature and cross-cultural relationships."
— Susan Richmond, Inklings Bookshop, Yakima, WA
Description
---
Kathleen Grissom, New York Times bestselling author of the highly anticipated Glory Over Everything, established herself as a remarkable new talent with The Kitchen House, now a contemporary classic. In this gripping novel, a dark secret threatens to expose the best and worst in everyone tied to the estate at a thriving plantation in Virginia in the decades before the Civil War.

Orphaned during her passage from Ireland, young, white Lavinia arrives on the steps of the kitchen house and is placed, as an indentured servant, under the care of Belle, the master's illegitimate slave daughter. Lavinia learns to cook, clean, and serve food, while guided by the quiet strength and love of her new family.

In time, Lavinia is accepted into the world of the big house, caring for the master's opium-addicted wife and befriending his dangerous yet protective son. She attempts to straddle the worlds of the kitchen and big house, but her skin color will forever set her apart from Belle and the other slaves.

Through the unique eyes of Lavinia and Belle, Grissom's debut novel unfolds in a heartbreaking and ultimately hopeful story of class, race, dignity, deep-buried secrets, and familial bonds.
About the Author
---
Born and raised in Saskatchewan, Kathleen Grissom is now happily rooted in south-side Virginia. She is the author of The Kitchen House and Glory Over Everything.
Praise For…
---
"I recommend The Kitchen House. This novel, like The Help, does important work."
— Alice Walker

"A touching tale of oppressed women, black and white . . . [This novel] about love, survival, friendship, and loss in the antebellum South should not be missed."
— The Boston Globe

"Forget Gone with the Wind . . . a story that grabs the reader and demands to be devoured. Wow."
— MInneapolis Star-Tribune

"To say Kathleen Grissom's The Kitchen House is a page-turner wouldn't do it justice . . . Grissom breaks away from the gate at a fast clip, the reader hanging on for the ride."
— Durham Herald-Sun

"Tension lurks everywhere, propelling the story forward [and] ample amounts of drama . . . Captivates with its message of right and wrong, family, and hope."
— Sacramento/San Francisco Book Review

"The Kitchen House combines a history lesson with a compulsively readable melodrama.'
— Wilmington Star-News

"Out of the ordinary."
— Romantic Times Book Review

"[Grissom's] . . . debut twists the conventions of the antebellum novel. . . . Provides a trove of tension and grit, while the many nefarious doings will keep readers hooked to the twisted, yet hopeful, conclusion."
— Publishers Weekly

"[A] pulse-quickening debut."
— Kirkus Reviews

"A gripping tale of the South during the days of slavery. . . . Kathleen Grissom's first novel explores the well-known side of the dark world of slavery as well as the not-so-well-known world of white slavery, or indentured servitude. The book is written in a manner that is fast-paced and action packed, making it difficult to put down."
— Bookreporter.com

"You will be thrilled by this intimate and surprising story that connects us with an unexpected corner of our history. Kathleen Grissom gives us a new and unforgettable perspective on slavery and families and human ties in the Old South, exploring the deepest mysteries of the past that help define who we are to this day."
— Robert Morgan, bestselling author of the Oprah Book Club selection Gap Creek

"Kathleen Grissom peers into the plantation romance through the eyes of a white indentured servant inhabiting the limbo land between slavery and freedom, providing a tale that provokes new empathy for all working and longing in The Kitchen House."
— Alice Randall, author of The Wind Done Gone and Rebel Yell

"This book was fantastic. It was the wow book that I have been waiting for all year."
— mommysreading.wordpress.com

"With its quick pace and well-drawn cast, The Kitchen House became one of only two books so far (the other being The Fellowship of the Ring) to catch such hold of me that I found myself sneaking it at work. . . . I found The Kitchen House to be a powerful, gripping debut novel that gives a real human face to the tragedies of yesterday that continue to trouble us today."
— thisbookandicouldbefriends.com

"Once you get involved in the story of Lavinia and Belle you will not want to put this book down. I enjoyed this book very much and I highly recommend it. Don't read it too fast. You don't want to miss one morsel of this book."
— bookaholicmom.blogspot.com

"This turned out to be exactly the book I needed to get me back into the reading groove. . . . The writing flowed so seamlessly that I can't believe that this is Grissom's first novel."
— thebluestockings.com

"Unique and intriguing."
— readersrespite.blogspot.com

"The endearing characters ingratiate themselves in your heart. . . . I most definitely recommend this book."
— historical-fiction.com