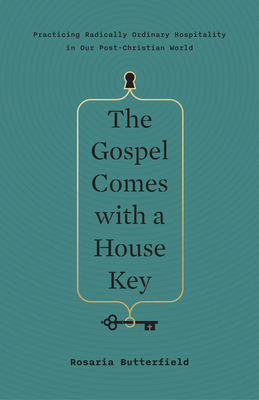 $19.99

Not Currently On The Shelf, But We Can Ship It To You In 3-5 Days
Staff Reviews
---
Having a heart for hospitality comes naturally to some and seems impossibly daunting for others. But Rosaria shows how instrumental opening up our hearts and our homes can be in living out the Christian faith. This book was such an inspiration and encouragement!
— From
What Sarah is reading
Description
---
Winner of the 2019 Christianity Today Book Award in the Christian Living & Discipleship Category
This book is going to shake us all up in the most wonderfully destabilizing way." --Ray Ortlund, Lead Pastor, Immanuel Church, Nashville, Tennessee
What did God use to draw a radical, committed unbeliever to himself? Did God take her to an evangelistic rally? Or, since she had her doctorate in literature, did he use something in print? No, God used an invitation to dinner in a modest home, from a humble couple who lived out the gospel daily, simply, and authentically.
With this story of her conversion as a backdrop, Rosaria Butterfield invites us into her home to show us how God can use this same "radical, ordinary hospitality" to bring the gospel to our lost friends and neighbors. Such hospitality sees our homes as not our own, but as God's tools for the furtherance of his kingdom as we welcome those who look, think, believe, and act differently from us into our everyday, sometimes messy lives--helping them see what true Christian faith really looks like.
About the Author
---
Rosaria Butterfield (PhD, Ohio State University) is an author, speaker, pastor's wife, homeschool mom, and former tenured professor of English and women's studies at Syracuse University. She is the author of The Secret Thoughts of an Unlikely Convert and Openness Unhindered.