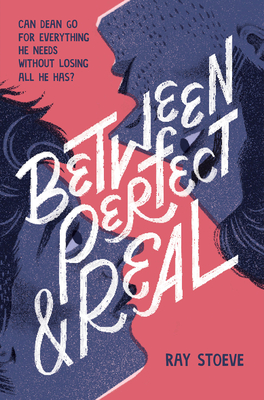 Staff Reviews
---
When Dean gets cast as Romeo in his school's production of Romeo + Juliet, he discovers that he may not want being perceived as Romeo to stop once the play wraps. With some good friends and a whole lot of guts, Dean takes the first step into showing the outside world, who he's been on the inside all along. I read this book in two days and, like Juliet, was in love with Dean from the moment I met him. I am sure you will be too!
— From
What Mack is reading
About the Author
---
Ray Stoeve is the author of the young adult novel Between Perfect and Real, which was a 2021 Junior Library Guild Gold Standard Selection. They also contributed to the young adult anthology Take the Mic: Fictional Stories of Everyday Resistance. They received a 2016–2017 Made at Hugo House Fellowship and created the YA/MG Trans and Nonbinary Voices Masterlist, a database that tracks all books in those age categories written by trans authors about trans characters. When they're not writing, they can be found gardening, making art in other mediums, or hiking their beloved Pacific Northwest.
Praise For…
---
"Between Perfect and Real manages to be both powerful and feel like a warm hug, written with love for every trans and nonbinary young reader, offering guidance on their paths. Informative and hopeful, I know that this book will change and save lives. A beautiful debut!"
— Kacen Callender, National Book Award winner

"Thoughtful, honest, and full of hope. Ray Stoeve's Between Perfect and Real is bursting at the seams with so many of my favorite things: friendship, community, and theatre."
— Amy Spalding, author of We Used to Be Friends

"Dramatic, hilarious, and heartbreaking. I fell for these characters so hard."
— Mason Deaver, bestselling author of I Wish You All the Best

"An astounding debut overflowing with heart. Stoeve beautifully captures the world of high school theater as much as they also give teens a story about the pitfalls of holding others to impossible, unfair standards. I spent the whole book rooting for Dean and his incredible group of friends. This is exactly the kind of book I needed long, long ago."
— Mark Oshiro, author of Anger is a Gift and Each of Us a Desert

"Between Perfect and Real perfectly captures the rollercoaster ride of being a queer high school senior. Stoeve gives voice to the heartbreaks and triumphs of regular kid life in that time when we're all trying to figure out who we've been, who we are, and who we want to be. A beautiful read."
— Daisy Eagan, writer and Tony Award-winning actor

"Stoeve's Between Perfect and Real is a funny, heartfelt and utterly enchanting debut that explores all the complexities of teenagehood–love, friendship, identity, and what it means to be brave. An outstanding and necessary new voice in the YA canon!"
— Jay Coles, author of Tyler Johnson Was Here and Things We Couldn't Say

**STARRED REVIEW**
"Dean's journey is tender, emotional, honest, and unafraid to face both the pain and joy of coming out. Through Dean's authentic and hopeful voice, Stoeve expertly crafts a powerful exploration of who we can become when we have the courage to choose our own paths."
— Booklist

"Each new step—changing his pronouns, getting a chest binder—makes him feel more comfortable in his body, as does acceptance by his best friend and the new friends he makes in a support group. Dean authentically and accessibly describes his experience as a trans man... Dean's story demonstrates the courage that it takes to come out."
— The Horn Book

"Stoeve perfectly encapsulates the experience of a teen's trans awakening. . .This #ownvoices verse Bildungsroman is an invaluable guidebook for readers in a state of gender self-realization."
— Bulletin of the Center for Children's Books

"Not settling for pat, one-dimensional explanations, the story is honest about the uncertainty, self-consciousness, confusion, and fear that can accompany transition while being validating and supportive of its trans protagonist."
— Kirkus Reviews

"Dean's process of figuring out his identity and his love of acting will be relatable to many teens, and Stoeve does not shy away from the nuances of navigating life after coming out."
— School Library Journal