The 100-Year-Old Man Who Climbed Out the Window and Disappeared (Paperback)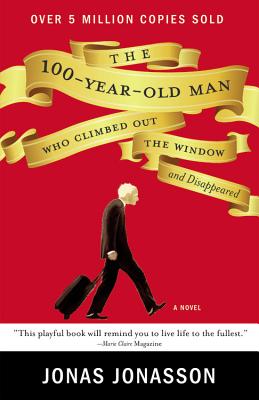 Staff Reviews
---
Allan Karlsson is living in a nursing home and is turning 100. However, instead of attending the party thrown for him, he escapes out the window in his slippers and a hilarious journey ensues, including a suitcase containing 1 million dollars, some unfriendly criminals, and an elephant. This would seem like the adventure of a lifetime, however Allan has not lived a normal life. Fun and utterly outrageous, The 100 Year Old Man Who Climbed Out the Window and Disappeared is one of my favorite books of all time.
— From
What Ali Is Reading
Description
---
The international publishing sensation--over six million copies sold worldwide!

A reluctant centenarian much like Forrest Gump (if Gump were an explosives expert with a fondness for vodka) decides it's not too late to start over . . .

After a long and eventful life, Allan Karlsson ends up in a nursing home, believing it to be his last stop. The only problem is that he's still in good health, and in one day, he turns 100. A big celebration is in the works, but Allan really isn't interested (and he'd like a bit more control over his vodka consumption). So he decides to escape. He climbs out the window in his slippers and embarks on a hilarious and entirely unexpected journey, involving, among other surprises, a suitcase stuffed with cash, some unpleasant criminals, a friendly hot-dog stand operator, and an elephant (not to mention a death by elephant).

It would be the adventure of a lifetime for anyone else, but Allan has a larger-than-life backstory: Not only has he witnessed some of the most important events of the twentieth century, but he has actually played a key role in them. Starting out in munitions as a boy, he somehow finds himself involved in many of the key explosions of the twentieth century and travels the world, sharing meals and more with everyone from Stalin, Churchill, and Truman to Mao, Franco, and de Gaulle. Quirky and utterly unique, The 100-Year-Old Man Who Climbed Out the Window and Disappeared has charmed readers across the world.
About the Author
---
Jonas Jonasson is a former journalist and media consultant. He lives in Sweden.
Praise For…
---
"[A] witty caper. ***1/2"—People

"[A] silly and wonderful novel. [The scenes] will just keep readers amused almost non-stop, and that's a feat few writers achieve. A great cure for the blues, especially for anyone who might feel bad about growing older."—Kirkus Reviews, Starred

"The anti Girl With the Dragon Tattoo. . . Jonasson's lighthearted novel shows the softer side of Sweden. . . . hilarious."—Marie Claire

"Scandi-crime's signature darkness is here dispelled by Allan Karlsson, the eponymous centenarian, who with unlikely sprightliness hops out of the window of his old people's home one afternoon . . . Fast-moving and relentlessly sunny . . . Like Allan, the plot is pleasingly nimble and the book's endearing charm offers a happy alternative to the more familiar Nordic noir."—The Guardian

"[A] laugh-out-loud debut . . . Historical figures like Mao's third wife, Vice President Truman, and Stalin appear, to great comic effect. Other characters-most notably Albert Einstein's hapless half-brother-are cleverly spun into the raucous yarn, and all help drive this gentle lampoon of procedurals and thrillers."—Publishers Weekly, Starred

"A mordantly funny and loopily freewheeling debut novel about ageing disgracefully."—The Sunday Times

"Eccentric, unusual and far-fetched in the best possible way."—The Bookseller

"This quirky novel is a sly, satirical look back at international relations in the 20th century through the eyes of an old man who has seen it all."—Library Journal

"Imaginative, laugh-out-loud . . . a brilliant satire on the foibles of mankind."—The Telegraph