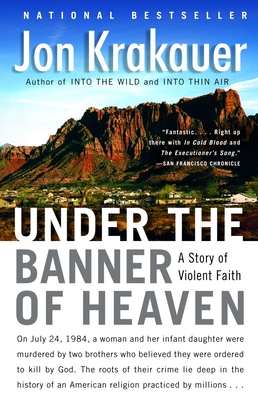 Staff Reviews
---
Christopher says: In Under the Banner of Heaven, Krakauer traces the development of a religion from founding to ideological splintering and carrying forward into modern times, showing how in short order people using the same underpinnings arrive at very different expressions of faith. While the book centers on the Mormon faith and its various incarnations, it has much broader implications for the nature of faith, its uses and abuses, and how by minor twists of logic one justifies radical and even anti-social behavior.
— From
What Christopher is reading
Description
---
This extraordinary work of investigative journalism takes readers inside America's isolated Mormon Fundamentalist communities, where some 40,000 people still practice polygamy. Defying both civil authorities and the Mormon establishment in Salt Lake City, the renegade leaders of these Taliban-like theocracies are zealots who answer only to God.

At the core of Krakauer's book are brothers Ron and Dan Lafferty, who insist they received a commandment from God to kill a blameless woman and her baby girl. Beginning with a meticulously researched account of this appalling double murder, Krakauer constructs a multi-layered, bone-chilling narrative of messianic delusion, polygamy, savage violence, and unyielding faith. Along the way he uncovers a shadowy offshoot of America's fastest growing religion, and raises provocative questions about the nature of religious belief.
About the Author
---
Jon Krakauer is the author of eight books and has received an Academy Award in Literature from the American Academy of Arts and Letters. According to the award citation, "Krakauer combines the tenacity and courage of the finest tradition of investigative journalism with the stylish subtlety and profound insight of the born writer." 

www.jonkrakauer.com
Praise For…
---
"Fantastic. . . . Right up there with In Cold Blood and The Executioner's Song." —San Francisco Chronicle

"Powerfully illuminating. . . . Almost every section of the book is fascinating in its own right, and together the chapters make a rich picture. . . . An arresting portrait of depravity." —The New York Times Book Review

"This year's most audacious work of nonfiction. . . . A white-knuckle mix of true-crime reporting and provocative history." —New York Post

"Scrupulously reported and written with Krakauer's usual exacting flair, Under the Banner of Heaven is both illuminating and thrilling. It is also the creepiest book anyone has written in a long time—and that's meant as the highest possible praise." —Newsweek

"Krakauer writes with almost astonishing narrative force. It is hard to stop reading." —The Baltimore Sun

"Stunningly researched. . . . Elegant reportage. . . . An evenhanded inquiry into the nature of religious belief itself." —Newsday

"Captivating. . . . Fascinating and appalling. . . . [Krakauer] should be applauded—and read." —The San Diego Union-Tribune

"A great book. . . . Krakauer has found a fascinating story in plain sight, right in the heart of the American West, and told it with the narrative drive and unflinching honesty that marked his 1998 best seller, Into Thin Air." —The Oregonian

"Jon Krakauer is at his provocative best." —The New Orleans Times-Picayune

"A fascinating page-turner. . . . Engrossing. . . . Krakauer's knack for crackling narrative and taut focus . . . drives this thought-provoking story." —The Columbus Dispatch

"A hair-raising true-crimer." —Chicago Sun-Times

"Terrifying. . . . Startling. . . . Mov[es] deftly between past and present [and] provides a fascinating glimpse of the church today." —The Atlanta Journal-Constitution

"A powerful portrait of how two seemingly ordinary Americans became murderers." —The Economist

"Illuminating . . . provocative. . . . Krakauer is an adept chronicler of extremists [and] the tour guide of choice for secular quests." —Los Angeles Times Book Review

"Marvelous. . . . A departure from Into Thin Air and Into the Wild . . . but every bit as engrossing." —Entertainment Weekly

"Well-researched and evenhanded. . . . Thought-provoking." —USA Today

"Startling. . . . Timely. . . . Krakauer uncovers a ghastly trail of forced marriage, polygamy, violence and mind control. . . . A chilling look at Mormon fundamentalism." —The Charlotte Observer

"Horrific, gripping. . . . Soberly written and courageously reported." —Milwaukee Journal-Sentinel

"Engrossing. . . . Incisive. . . . [Krakauer is] a very careful reporter. . . . His clear-headed, unbiased examination of the church—leavened with genuine respect—and his conclusions . . . are hard to argue with." —Boulder Daily Camera

"One hell of a chilling read." —Maxim

"Compelling. . . . Provocative. . . . Illuminating. . . . A gripping tale." —The Christian Science Monitor

"A disturbing picture of Mormon fundamentalists. . . . Krakauer's straightforward style and excellent storytelling ability make the book interesting." —Rocky Mountain News

"A terrific read." —Reader's Digest

"Riveting. . . . Intriguing. . . . Breezy, smooth and vigorously written, this ambitious book is entertaining and informative. . . . Krakauer reconstructs the Lafferty brothers' descent into fatal fanaticism magnificently, interweaving their story throughout the book and giving this wide-ranging work narrative coherence and emotional resonance. . . . [He is] a superb storyteller." —The News & Observer

"A powerful look at how religious belief can cross the line into fanaticism." —San Jose Mercury News