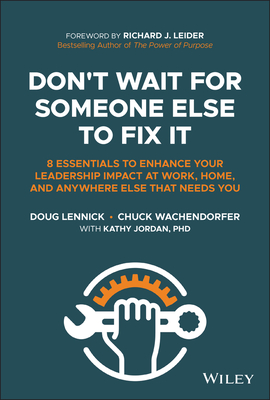 Description
---
A playbook for leaders in any walk of life, with a foreword from Richard Leider, the legendary executive-life coach and best-selling author.
The world needs positive leadership more than ever. Luckily, there is a large untapped source of leaders who can change the world for the better: all of us Since each of us constantly influences those around us, by definition, everyone is a leader, not just people with formal titles.
This book will help everyone tap into the power of their influence to pursue a meaningful purpose, whether on the job, in the community, or at home. All it takes is leadership intelligence, a combination of 8 moral, social, and technical imperatives essential to our ability to positively influence others. These 8 essentials include:
Aim to be Your Ideal Self
Know Your Real Self
Ignite Integrity and Responsibility
Embrace Empathy and Compassion
Decide Wisely
Let Go of What You Know
Achieve Meaningful Goals
Empower Others
Don't Wait for Someone Else to Fix It is liberally illustrated with compelling stories of a varied cast of characters, including the head of a skiing expedition to the North Pole, an Olympic snowboarding coach, a mountaineer leading a high-altitude Himalayan climbing team, the executive director of an innovative low-income senior housing community, and the founder of a pioneering youth basketball program for girls. Examples of "fixing it" also come from the journeys of entrepreneurs and executives in the financial services, health care, educational, travel and media industries. In addition, the book highlights insights of thought leaders such as internationally famous author and coach, Richard Leider; Stephen M. R Covey, a best-selling author and global authority on leadership; world-renowned performance psychologist and author Jim Loehr; and Richard Sheridan, best-selling author, and co-founder of the award-winning software company Menlo Innovations.
Authors Doug Lennick and Chuck Wachendorfer are highly qualified to share the lessons of Don't Wait for Someone Else to Fix It. Both have decades of experience as corporate executives, entrepreneurs, community volunteers, business coaches, and parents. For the reader who wants down-to-earth guidance about how to be a successful leader, the book does more than just talk about the significance of leadership intelligence. It features a wealth of practical exercises and tools for developing each of the 8 leadership intelligence essentials.
About the Author
---
DOUG LENNICK is the founding CEO of think2perform, a high performance leadership development firm serving small and large organizations in a variety of industries. He has been in leadership roles for nearly 40 years and is widely recognized as an expert in the art and science of human behavior. CHUCK WACHENDORFER is a renowned leadership development professional and has worked with clients including American Express, Wells Fargo, Comerica Bank, TD Wealth of Canada, Charles Schwab, and others. His insights on leadership have been featured extensively in media such as CNN Money, Forbes, Fortune, and The Denver Post.