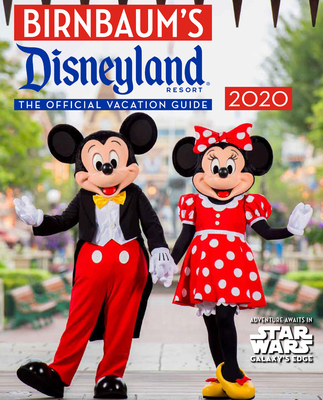 Description
---
As Disneyland continues to grow and evolve, trust Birnbaum as your 2020 guide for:
insider tips on how to see and do it all
detailed descriptions of all attractions, resorts, and eateries
money-saving strategies
New to Disneyland:
The Tropical Hideaway: Disneyland is home to an exotic new marketplace and dining destination, conveniently located in near Adventureland's Enchanted Tiki Room. Birnbaum supplies all the savory details for appetizing adventures in this refreshing respite offering tropical sounds and waterfront views.
Star Wars: Galaxy's Edge: The new 14-acre land will burst onto the scene to amaze guests of all ages. The largest themed expansion in Disneyland Park history transports guests to Batuu, a distant planet featuring lush forests, rocky turf, and immersive Star Wars-style architecture. Birnbaum gives the low-down on Disneyland's newest adventure zone.
Pixar Pier: Birnbaum offers tips and strategies for making the most of a visit to this newly-reimagined land, including not-to-be-missed attractions (Incredicoaster, Pixar Pal-Around, and more), eateries (including menu updates for the new fan-favorite: Lamplight Lounge), and shopping opportunities (Bing-Bong's Sweet Stuff and Knick's Knacks).
And what's new at the dynamic dining, shopping, and entertainment district known as Downtown Disney? We'll fill you in!
Inside we'll also tell you how to:
Plan a Disneyland vacation that's right for you, including deciding when to go
Stretch your dollar with money-saving tips and coupons exclusive to Birnbaum
Enter the parks before the crowds arrive, or stay for hours after closing time, with Extra Magic Hours
Maximize MaxPass, a popular service that lets guests save time in line by booking FastPass selections for park attractions with a mobile device. The service includes unlimited downloads of photos snapped by Disneyland PhotoPass photographers, too.
Choose (and book) a Disney dining experience with our extensive restaurant coverage
Skip lines for quick-service eateries throughout the Disneyland Resort by ordering ahead via Disney's handy (and free) mobile app.
Raise a glass and enjoy other-worldly snacks and live entertainment at the new Oga's Cantina. Musical entertainment is provided by the Cantina's resident deejay, a quirky droid known as RX-24.
Reserve a breakfast with Goofy and his Disney pals
Meet and greet Mickey Mouse and an ever-growing cast of Disney characters
Celebrate the holidays (a lot of 'em!) Disney-style, in the parks, restaurants and Disneyland Resort hotels
Sign up for behind-the-scenes tours
Detect dozens of Hidden Mickeys throughout the theme parks
Planning a trip to Disneyland? Be sure to have all the official guides from Disney Editions:
The Hidden Mickeys of Disneyland
About the Author
---
When Steve Birnbaum launched this guide in 1981, he made it clear what was expected of anyone who worked on it:
The book would be meticulously revised each year, leaving no attraction untested, no snack or meal untasted, no hotel untried. First-hand experiences like these, accumulated over the years, make this book the most authoritative guide to the Walt Disney World and Disneyland Resorts.
Our expertise, however, is not achieved by being escorted through back doors of attractions (although we would enjoy that). Instead, we wait in lines with everyone else, always hoping to have a Disney experience like that of any other guest. We also take advantage of Walt Disney World's ambitious (and free) FastPass+ attraction reservation system whenever we can. We'll continue to keep a close eye on it and other additions to the Disney vacation-planning universe, homework we're happy to do for readers like you.
While Disney World and Disneyland have vastly expanded, and so has our knowledge of the most popular vacation destinations on the planet. On some occasions we've encountered sweltering weather and swelling crowds, times when even the happiest of travelers can turn into Grumpy for a moment or two. Had we known then what we know now, we could have spared ourselves some trying experiences.
In one case, a staffer waited more than an hour to get on an attraction. Standing in line with a notebook, she was asked by another guest if there was a quiz at the end. When she explained what she was doing, he expressed surprise to learn that she was waiting with the masses. But that's always been our strategy.
We believe the best way to gather useful advice for a Disney park guest is to be one.
Over and over again!
-Jill Safro, Editor
Praise For…
---
"The Official Guide is also the best."
—
The New York Times
One of "10 Gift Ideas Theme Park Fans Will Love . . . While giving a Disney vacation is a gift out of most people's price ranges, you still can help loved ones plan for their next theme park vacation. The best Disney guidebooks are from Birnbaum's, and [release] ahead of the New Year. . . . The guidebooks offer everything from tips on how to maximize your park experiences to restaurant reviews."
—
International Business Times