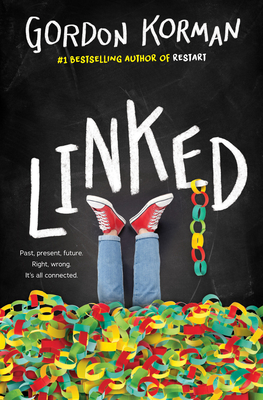 Staff Reviews
---
Gordon Korman has done it again, written a timely middle grades book with relevant topics and the best part--it takes place in Colorado. Swastikas are painted throughout the middle school where Link attends. Then more and more appear even as the student body rallies together to learn about the hateful meaning of the symbol and try to unite against the crime. The only Jewish girl in town is the daughter of paleontologists who are digging bones from the local hillside. She and Link create an interesting bond even as the mystery continues. This book would be a good conversation starter about dark parts of our history.
— From
What Amy is Reading
Description
---
An unforgettable novel from the New York Times bestselling Gordon Korman.
Link, Michael, and Dana live in a quiet town. But it's woken up very quickly when someone sneaks into school and vandalizes it with a swastika.
Nobody can believe it. How could such a symbol of hate end up in the middle of their school? Who would do such a thing?
Because Michael was the first person to see it, he's the first suspect. Because Link is one of the most popular guys in school, everyone's looking to him to figure it out. And because Dana's the only Jewish girl in the whole town, everyone's treating her more like an outsider than ever.
The mystery deepens as more swastikas begin to appear. Some students decide to fight back and start a project to bring people together instead of dividing them further. The closer Link, Michael, and Dana get to the truth, the more there is to face-not just the crimes of the present, but the crimes of the past.
With Linked, Gordon Korman, the author of the acclaimed novel Restart, poses a mystery for all readers where the who did it? isn't nearly as important as the why?
About the Author
---
GORDON KORMAN is a beloved author of over ninety-five novels for young readers, including hilarious middle-grade classics such as the Macdonald Hall series, I Want to Go Home and Slacker. Born in Montreal, Quebec, Gordon grew up in Thornhill, Ontario, and now lives in New York with his family. Visit him online at www.gordonkorman.com.
Praise For…
---
Praise for War Stories:
* "This weave of perceptive, well-told tales wears its agenda with unusual grace." — Kirkus, starred review
Praise for Restart:
* "A fresh approach to the familiar topic of bullying, kept credible by believable characters and events, with typical Korman humor and just the right touch of mystery." — School Library Journal, starred review
Praise for Slacker:
"Upbeat, inspiring, and full of Korman's signature sense of humor." — Publishers Weekly
"Korman makes comedy look deceptively easy." — Booklist
Praise for Swindle:
"Scary, funny, and hysterical adventures!" — Chicago Tribune
"Pure fun from top to bottom." — School Library Journal
Praise for The Hypnotists:
"Fast-paced... an entertaining mix of intense action and goofy fun." — Publishers Weekly
Praise for Ungifted:
"A gem for readers looking for a book where the underdog comes out on top." — Voice of Youth Advocates
"Funny and insightful." — Publishers Weekly
Praise for Schooled:
* "This rewarding novel features an engaging main character and some memorable moments of comedy, tenderness, and reflection." — Booklist, starred review
Praise for War Stories:
* "This weave of perceptive, well-told tales wears its agenda with unusual grace." — Kirkus, starred review
Praise for Restart:
* "A fresh approach to the familiar topic of bullying, kept credible by believable characters and events, with typical Korman humor and just the right touch of mystery." — School Library Journal, starred review
Praise for Slacker:
"Upbeat, inspiring, and full of Korman's signature sense of humor." — Publishers Weekly
"Korman makes comedy look deceptively easy." — Booklist
Praise for Swindle:
"Scary, funny, and hysterical adventures!" — Chicago Tribune
"Pure fun from top to bottom." — School Library Journal
Praise for The Hypnotists:
"Fast-paced... an entertaining mix of intense action and goofy fun." — Publishers Weekly
Praise for Ungifted:
"A gem for readers looking for a book where the underdog comes out on top." — Voice of Youth Advocates
"Funny and insightful." — Publishers Weekly
Praise for Schooled:
* "This rewarding novel features an engaging main character and some memorable moments of comedy, tenderness, and reflection." — Booklist, starred review