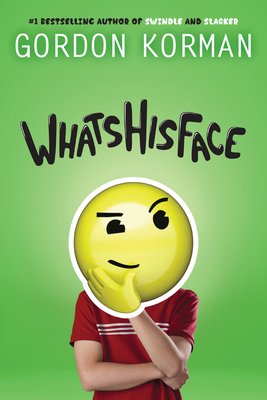 $16.99
Not Currently On The Shelf, But We Can Ship It To You In 3-5 Days
Staff Reviews
---
Whatshisface is an action-packed, high-tech ghost story. Cooper Vega is at yet another new school because his father is in the military. He has the problem of making new friends and dealing with the school bully. To top it all off he's got to figure out why on earth his smartphone is possessed by a Victorian-era poltergeist! Packed with mystery and a little bit of humor, plus a cool introduction to Shakespeare.
— From
What Bartas is Reading
Description
---
When 12-year-old Cooper Vega moves for the third time in five years, he receives a state-of-the-art smartphone to help him stay in touch with old friends. He's had phones before, but this one is buggy and unpredictable. When a boy named Roderick Northrop communicates with him through the phone, Cooper realizes that his phone isn't buggy at all; the thing is haunted!

About the Author
---
Gordon Korman is the #1 bestselling author of three books in The 39 Clues series as well as eight books in his Swindle series: Swindle, Zoobreak, Framed, Showoff, Hideout, Jackpot, Unleashed, and Jingle. His other books include This Can't Be Happening at Macdonald Hall! (published when he was fourteen); The Toilet Paper Tigers; Radio Fifth Grade; Slacker; Restart; the trilogies Island, Everest, Dive, Kidnapped, and Titanic; and the series The Hypnotists and On the Run. He lives in New York with his family and can be found on the web at gordonkorman.com.
Praise For…
---
Praise for The Hypnotists:
"Fast-paced... an entertaining mix of intense action and goofy fun." -- Publishers
Weekly
Praise for Ungifted:
"A gem for readers looking for a book where the underdog comes out on top." --
Voice of Youth Advocates
"Funny and insightful." -- Publishers Weekly
Praise for Swindle:
"Scary, funny, and hysterical adventures!" -- Chicago Tribune
"Pure fun from top to bottom." -- School Library Journal
Praise for Schooled:
* "This rewarding novel features an engaging main character and some memorable
moments of comedy, tenderness, and reflection." -- Booklist, starred review