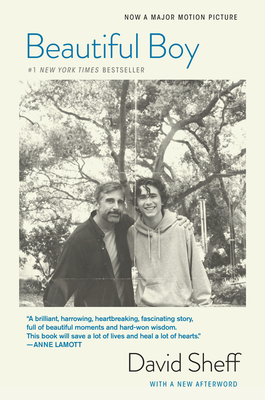 Staff Reviews
---
This tragic memoir details David Sheff and his son Nic's journey through addiction and eventually recovery. While meth addiction is a prominent theme throughout the book, it is about so much more. My favorite part of this story is the complex relationship between father and son. David displays unconditional love for his son, sometimes to his own demise. Nic's story has served as an inspiration for struggling and recovering addicts worldwide as his transparency started and important conversation.
— From
What Hannah is Reading
Description
---
#1 New York Times bestseller
 
With a new afterword

Now a Major Motion Picture
Starring Steve Carell * Timothée Chalamet * Maura Tierney * and Amy Ryan

 "A brilliant, harrowing, heartbreaking, fascinating story, full of beautiful moments and hard-won wisdom. This book will save a lot of lives and heal a lot of hearts." — Anne Lamott

"'When one of us tells the truth, he makes it easier for all of us to open our hearts to our own pain and that of others.' That's ultimately what Beautiful Boy is about: truth and healing." — Mary Pipher, author of Reviving Ophelia
 
What had happened to my beautiful boy? To our family? What did I do wrong? Those are the wrenching questions that haunted David Sheff's journey through his son Nic's addiction to drugs and tentative steps toward recovery. Before Nic became addicted to crystal meth, he was a charming boy, joyous and funny, a varsity athlete and honor student adored by his two younger siblings. After meth, he was a trembling wraith who lied, stole, and lived on the streets. David Sheff traces the first warning signs: the denial, the three a.m. phone calls—is it Nic? the police? the hospital? His preoccupation with Nic became an addiction in itself. But as a journalist, he instinctively researched every treatment that might save his son. And he refused to give up on Nic.
 
"Filled with compelling anecdotes and important insights . . . An eye-opening memoir." — Washington Post
About the Author
---
DAVID SHEFF is the author of several books, including the #1 New York Times best-selling memoir Beautiful Boy. His writing has appeared in the New York Times, the New York Times Magazine, Rolling Stone, Playboy, Wired, and many other publications. His ongoing research and reporting on the science of addiction earned him a place on Time magazine's list of the World's Most Influential People. Sheff and his family live in the San Francisco Bay Area. Visit David at DavidSheff.com, and on Twitter @david_sheff.

 
Praise For…
---
"An honest, hopeful book, coming at a propitious moment in the meth epidemic." —Publishers Weekly
 
"An excellent book that all parents can relate to whatever their children's situation." —Library Journal, starred review
 
"Those of us who love an addict—or are addicts ourselves—will find Beautiful Boy a revelation." —Martin Sheen, actor
 
"A welcome balm to millions . . . who thought they were making this journey alone." —Armistead Maupin, author of The Night Listener
 
"This book is going to save a lot of lives, and help heal . . . hearts." —Anne Lamott, author of Grace (Eventually)
 
"Moving, timely, and sobering. It's also startlingly beautiful." —Sir Richard Branson, chairman, Virgin Group
 
"An extraordinary story of pain, perseverance and hope." —William C. Moyers, author of Broken
 
"Honest, reflective and deeply moving. Beautiful Boy is about: truth and healing." —Mary Pipher, author of Reviving Ophelia
 
"For . . . anyone who has ever wrestled with holding on and letting go." —Thomas Lynch, author of The Undertaking
 
"A masterpiece of description and feeling . . . immediate, informative and heartbreaking." —Susan Cheever, author of Note Found in a Bottle