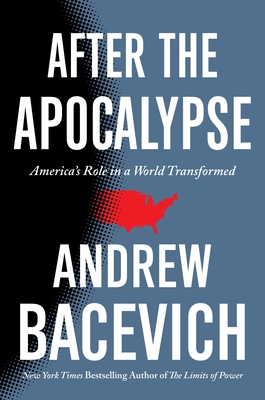 Staff Reviews
---
This is a timely book that encourages readers to reexamine US foreign policy and rethink our position in the 21st century. Bacevich, a military veteran and professor, urges American voters to set aside romantic notions of America's position in the world in favor of pragmatism and working with the right partners. His writing is engaging and accessible, while deeply informed and independent in thought.
— From
What Matt Is Reading
Description
---
A bold and urgent perspective on how American foreign policy must change in response to the shifting world order of the twenty-first century, from the New York Times bestselling author of The Limits of Power and The Age of Illusions.

The purpose of U.S. foreign policy has, at least theoretically, been to keep Americans safe. Yet as we confront a radically changed world, it has become indisputably clear that the terms of that policy have failed. Washington's insistence that a market economy is compatible with the common good, its faith in the idea of the "West" and its "special relationships," its conviction that global military primacy is the key to a stable and sustainable world order—these have brought endless wars and a succession of moral and material disasters.

In a bold reconception of America's place in the world, informed by thinking from across the political spectrum, Andrew J. Bacevich—founder and president of the Quincy Institute for Responsible Statecraft, a bipartisan Washington think tank dedicated to foreign policy—lays down a new approach—one that is based on moral pragmatism, mutual coexistence, and war as a last resort. Confronting the threats of the future—accelerating climate change, a shift in the international balance of power, and the ascendance of information technology over brute weapons of war—his vision calls for nothing less than a profound overhaul of our understanding of national security.

Crucial and provocative, After the Apocalypse sets out new principles to guide the once-but-no-longer sole superpower as it navigates a transformed world.
About the Author
---
Andrew Bacevich is the author of The Limits of Power, Washington Rules, and The Age of Illusions: How America Squandered Its Cold War Victory. His writings have appeared in The New York Times, the London Review of Books, and the American Conservative, among other publications. Having served in the army for twenty-three years, he is currently a professor emeritus of history and international relations at Boston University and founder and president of the Quincy Institute for Responsible Statecraft, a Washington think tank dedicated to foreign policy. He lives in Walpole, Massachusetts.
Praise For…
---
"Few critics [of the Iraq and Afghanistan Wars] have been more penetrating than Andrew Bacevich . . . One can only hope that Bacevich is read and understood by a generation young enough to see through and reject those dismal elites."
—The New York Times Book Review (Editors' Choice)

"A timely, angry, deeply necessary book about the habits of mind that have damaged America, and how to change them."
—Peter Beinart, author of The Crisis of Zionism

"In a sane country, the estimable Andrew Bacevich would be Secretary of a much-shrunken Defense Department. Deepened by his sense of history, this up-to-the-minute book is his answer to the big question: why is the most powerful nation on earth so ill-prepared to deal with the world it faces?"
—Adam Hochschild, author of Spain in Our Hearts

"The proliferating crises of our moment have found their interpreter. In this piercing account, Andrew Bacevich explains how distinctively American attributes—from our national security state to our original sin of racism to our very self-concept as the world leader—have, in the 21st century, conspired to render the American people vulnerable where they live. Bacevich points the way forward in terms that Americans across party lines are likely to appreciate. Will their leaders?"
—Stephen Wertheim, author of Tomorrow, the World: The Birth of U.S. Global Supremacy

"After the Apocalypse is a welcome act of heresy . . . that drives a central point home: America has stumbled, badly, and will complete its precipitous fall unless measures are taken to radically reform its failed and flawed relationship with itself and the world . . . A must read for any student or practitioner of American statecraft."
—Scott Ritter, former US Marine Corps intelligence officer

"An excoriating call for change . . . Bacevich's arguments are well-informed and stoked by a sense of moral outrage. Readers will agree that U.S. foreign policy needs a massive rethink."
—Publishers Weekly

"With a reputation for knowledgeable, incisive, and provocative readings of history, Bacevich delivers his latest addition to a growing body of thought-provoking work . . . Broad in its scope yet concise, this is an important nonconformist interpretation of American history."
—Kirkus Reviews