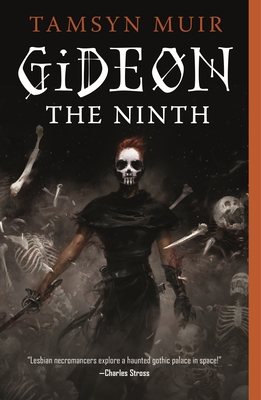 Other Books in Series
This is book number 1 in the The Locked Tomb Series series.
Staff Reviews
---
Think Resident Evil, but with magic, and in space, but still mostly in a haunted mansion full of undead monsters and puzzles. In a 10,000 year old necromantic empire decay is spreading, and no where more so than The Ninth House. Gideon wants only to escape her stale life, but when the immortal emperor calls the scions of each of the great houses, she finds herself thrust into the role of cavalier to the woman she detests most. With no one to trust, nothing as it seems, and bodies starting to pile up, Gideon must use all her resources to solve the mysteries around her and stay alive. A very unique book and story, it's like nothing else I've read. I can't wait for the sequel!
— From
What Ryan is reading
September 2019 Indie Next List
---
"Gideon the Ninth is an epic science fantasy that if delivered into the hands of enough people will set the world on fire as it hasn't been since The Hunger Games. Brilliance doesn't come close to explaining Tamsyn Muir's narrative where no single word is wasted or her engineering of a world with characters that end up belonging to you wholeheartedly even long after the last page. With fierce independence and hysterical wit, and laced with moments of pure heartbreaking tenderness and loyalty, Gideon and Harrow's relationship simultaneously digs under your skin and tugs at your heartstrings. I cannot recommend this book highly enough."
— Nichole Cousins, Still North Books & Bar, Brooklyn, NY
Summer 2020 Reading Group Indie Next List
---
"If sword-wielding necromancer lesbians and a crumbling space-age palace aren't enough to sell you on this book, then let yourself be won over by the hilarious sass and reckless determination of Gideon Nav. Fascinating world-building and an irresistibly cheeky main character. Absolutely do not miss!"
— Genevieve Taylor, Boulder Book Store, Boulder, CO
Description
---
15+ pages of new, original content, including a glossary of terms, in-universe writings, and more!

A USA Today Best-Selling Novel, and one of the Best Books of 2019 according to NPR, the New York Public Library, Amazon, BookPage, Shelf Awareness, BookRiot, and Bustle!

WINNER of the 2020 Crawford Award
Finalist for the 2020 Hugo, Nebula, and Locus Awards

"Unlike anything I've ever read. " —V.E. Schwab

"Lesbian necromancers explore a haunted gothic palace in space!" —Charles Stross

"Brilliantly original, messy and weird straight through." —NPR

The Emperor needs necromancers.

The Ninth Necromancer needs a swordswoman.

Gideon has a sword, some dirty magazines, and no more time for undead nonsense.

Tamsyn Muir's Gideon the Ninth, first in The Locked Tomb Trilogy, unveils a solar system of swordplay, cut-throat politics, and lesbian necromancers. Her characters leap off the page, as skillfully animated as arcane revenants. The result is a heart-pounding epic science fantasy.

Brought up by unfriendly, ossifying nuns, ancient retainers, and countless skeletons, Gideon is ready to abandon a life of servitude and an afterlife as a reanimated corpse. She packs up her sword, her shoes, and her dirty magazines, and prepares to launch her daring escape. But her childhood nemesis won't set her free without a service.

Harrowhark Nonagesimus, Reverend Daughter of the Ninth House and bone witch extraordinaire, has been summoned into action. The Emperor has invited the heirs to each of his loyal Houses to a deadly trial of wits and skill. If Harrowhark succeeds she will be become an immortal, all-powerful servant of the Resurrection, but no necromancer can ascend without their cavalier. Without Gideon's sword, Harrow will fail, and the Ninth House will die.

Of course, some things are better left dead.

THE LOCKED TOMB SERIES
BOOK 1: Gideon the Ninth
BOOK 2: Harrow the Ninth
BOOK 3: Nona the Ninth
BOOK 4: Alecto the Ninth
About the Author
---
TAMSYN MUIR is the bestselling author of the Locked Tomb Series. Her fiction has won the Locus and Crawford awards, and been nominated for the Hugo Award, the Nebula Award, the Shirley Jackson Award, the World Fantasy Award, the Dragon Award, and the Eugie Foster Memorial Award. A Kiwi, she has spent most of her life in Howick, New Zealand, with time living in Waiuku and central Wellington. She currently lives and works in Oxford, in the United Kingdom
Praise For…
---
"Deft, tense and atmospheric, compellingly immersive and wildly original." —The New York Times

"Unlike anything I've ever read. Muir's writing is as sharp as a broken tooth, and just as unsettling." —V.E. Schwab, #1 New York Times Bestselling Author

"With a snorting laugh and two middle fingers, the whole thing burns end-to-end. It is deep when you expect shallow, raucous when you expect dignity and, in the end, absolutely heartbreaking when you least expect it." —NPR

"Warm and cold; goofy and gleaming; campy and epic; a profane Daria in space." —Robin Sloan, author of Mr. Penumbra's 24-Hour Bookstore

"I can't remember the last time I was so delightedly baffled by a book. An astonishing, genre-defying, hilarious-violent-tragic-horrifying-thrilling wonder of a novel." —Kiersten White, NYT Bestselling Author of And I Darken

"Lesbian necromancers explore a haunted gothic palace in space! Decadent nobles vie to serve the deathless emperor! Skeletons!" —Charles Stross, author of The Laundry Files and Empire Games

"I started this book chuckling at the outrageous premise. I finished it crying, because the ending punched me straight in the gut." —Vox

And Five Starred Reviews from Publishers Weekly, Kirkus, Library Journal, BookList, and BookPage