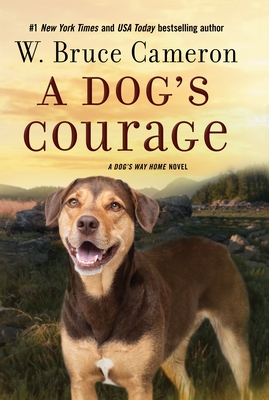 $26.99

Not Currently On The Shelf, But We Can Ship It To You In 3-5 Days
Staff Reviews
---
Bestselling novelist, W. Bruce Cameron, has become almost a household name among dog lovers and lovers of dog books. Three previous novels are major motion pictures, and A DOG'S COURAGE is destined to become a fourth. It is the sequel to A DOG'S WAY HOME. Several aspects of this new book will resonate with readers in mountain communities who live among wildlife and wildfires.
Throughout the engaging story, we are reminded of the increasing threats of global warming to the balance of nature and all life forms. Set in the Colorado Rocky Mountains, this novel takes place during a raging forest fire of historic proportions that destroys thousands upon thousands of wild spaces. One cannot help but recall the fires which have ravaged Western states over the past decade (Cameron's own home state of California perhaps the worst) and will probably continue to do so in the face of climate change. This realistic frame makes the novel more compelling.
Bella is a strong, independent, loyal, and loving dog who lives with Lucas and Olivia. Previous to joining her family, she was lost in the wilderness and formed a unique friendship with a female mountain lion, Big Kitten. A weekend camping trip turns into a fight to survive when Lucas, Olivia and Bella are trapped in a remote mountain fire zone. When Bella is separated from her people once again, by chance she meets up with Big Kitten, who now shelters two vulnerable cubs. Bella assumes responsibility for the cubs when the mother cat disappears while hunting for food. Bella is torn between finding her way home to her people and protecting the cubs from predators, fire and more. Her determination and bravery finally bring her home and her adopted wild family returns to safety.
Cameron is a master at capturing what makes a very good dog so special. His writing is easy and accessible. This adult novel is appropriate
for a young adult audience or for a family read-aloud—dog lovers, of course. I admire the author's finesse with anthropomorphism—he skillfully lends "human attributes" to his canine and feline characters. The animals in his story remain natural and believable in their thoughts and actions. Some of his humor borders on "corny"…but that lightens the more serious tone of the story.
My guess is that Bella will be back, and perhaps Big Kitten and her cat family. I recommend A DOG'S COURAGE for an entertaining, not-too-heavy read, and I look forward to seeing it played out on the big screen!
Sandy Ferguson Fuller
— From
What Sandy is Reading
Description
---
#1 New York Times bestselling author W. Bruce Cameron once again captures the bravery and determination of a very good dog in the gripping sequel to A Dog's Way Home, the acclaimed novel that inspired the hit movie!

Bella was once a lost dog, but now she lives happily with her people, Lucas and Olivia, only occasionally recalling the hardships in her past. Then a weekend camping trip turns into a harrowing struggle for survival when the Rocky Mountains are engulfed by the biggest wildfire in American history. The raging inferno separates Bella from her people and she is lost once more.

Alone in the wilderness, Bella unexpectedly finds herself responsible for the safety of two defenseless mountain lion cubs. Now she's torn between two equally urgent goals. More than anything, she wants to find her way home to Lucas and Olivia, but not if it means abandoning her new family to danger. And danger abounds, from predators hunting them to the flames threatening at every turn.

Can Bella ever get back to where she truly belongs?

A Dog's Courage is more than a fast-paced adventure, more than a devoted dog's struggle to survive, it's a story asking that we believe in our dogs as much as they believe in us.
About the Author
---
W. BRUCE CAMERON is the #1 New York Times and USA Today bestselling author of A Dog's Purpose, A Dog's Way Home, and A Dog's Journey (all now major motion pictures), The Dog Master, A Dog's Promise, the Puppy Tales for young readers (starting with Ellie's Story and Bailey's Story), The Dogs of Christmas, The Midnight Plan of the Repo Man, and others. He lives in California.
Praise For…
---
"Another winning tale of an extraordinary human-canine companionship full of tug-at-the-heartstrings adventure." —Booklist on A Dog's Way Home

"Marley & Me combined with Tuesdays with Morrie." —Kirkus Reviews on A Dog's Purpose

"Funny, heartwarming, and touching." —Library Journal, starred review, on A Dog's Purpose