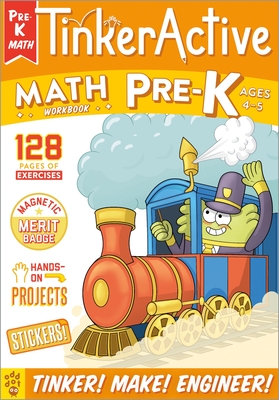 Other Books in Series
This is book number 10 in the TinkerActive Workbooks series.
Description
---
From Star Wars, Brain Quest and Kumon workbook writer and editor Nathalie Le Du, TinkerActive Workbooks: Pre-K Math is part of an illustrated educational series that combines curriculum-based exercises designed for all learners with hands-on activities to help kids learn through play.

With TinkerActive Workbooks, learning leaps off the page and into the real world. Start with interactive and entertaining exercises that cover the essential pre-k math skills. Then, apply what you've learned with exciting hands-on tinkering, making, and engineering activities and common household materials.

A charming cast of characters—the fuzzy, friendly TinkerActive MotMots, creatures of all shapes and sizes—guide kids through every new concept with cheer and humor. Once you've completed the workbook, unbox a collectible magnet badge of success hidden in the back cover and proudly display it on the included poster.

Created in consultation with award-winning educators, TinkerActive Workbooks are designed so kids can learn through play! They build your child's fundamental math skills AND inspire them to try new things, discover new skills, and imagine new possibilities.

This workbook covers: Same & Different, Sorting, Counting to 20, Quantities, Writing Numbers, Addition & Subtraction Fundamentals, Measurement, Spatial Reasoning, and Shapes.

Illustrations by Les McClaine and Anna-Maria Chung
About the Author
---
Nathalie Le Du is a writer and editor of interactive books that kids write in, cut up, draw on, generally destroy, and ultimately learn from. Nathalie has been at the helm and in the pages of such brands as KUMON WORKBOOKS, BRAIN QUEST, STAR WARS WORKBOOKS, and the BIG FAT NOTEBOOKS. Nathalie is also a mom, native New Yorker, a first-generation American, and a proud product of public schools.

Les McClaine decided he wanted to draw comics when he was eight years old and has been doing it ever since. He is the Eisner-nominated author of "Johnny Crossbones," "Life With Leslie," "Repeat Until Death," and "Highway 13." He has also illustrated numerous comics including "The Tick" and "The Middleman." In 2008, "The Middleman" was made into a TV series for ABC Family. He lives in Portland, Oregon in a little yellow house with his wife Crystal and their cat Theodore.

Odd Dot is an imprint of Macmillan Children's Publishing Group dedicated to creating joyful books for curious minds. Our mission is to develop interactive and substantive gift books that explore categories and formats never seen before. We are a proudly odd mix of makers, creators, and engineers, guided by the priorities of innovation, education, and play.