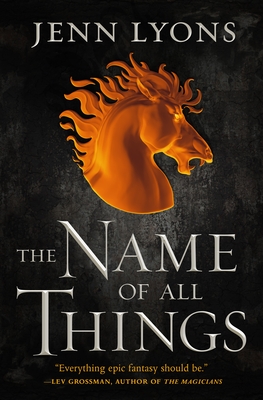 Other Books in Series
This is book number 2 in the A Chorus of Dragons series.
Staff Reviews
---
The sequel to The Ruin of Kings lives up to the first book and takes you deeper into this amazing world and story! Picking up where TRoK leaves off, Kihrin flees the capital city and travels to the horse lands of Jorat, where he meets Janel, whose fate and soul are tied to his own in ways they are only beginning to comprehend. But the nefarious wizard Relos Var, also linked to Kihrin and Janel over millennia, isn't about to give them time to figure out the mysteries that unite them. Full of action, mystery, romance, betrayal, one of the most dysfunctional families ever, and dragons the size of islands, this series is not to be missed!
— From
What Ryan is reading
Description
---
"Everything epic fantasy should be: rich, cruel, gorgeous, brilliant, enthralling and deeply, deeply satisfying. I loved it."—Lev Grossman on The Ruin of Kings

You can have everything you want if you sacrifice everything you believe.

Kihrin D'Mon is a wanted man.

Since he destroyed the Stone of Shackles and set demons free across Quur, he has been on the run from the wrath of an entire empire. His attempt to escape brings him into the path of Janel Theranon, a mysterious Joratese woman who claims to know Kihrin.

Janel's plea for help pits Kihrin against all manner of dangers: a secret rebellion, a dragon capable of destroying an entire city, and Kihrin's old enemy, the wizard Relos Var.

Janel believes that Relos Var possesses one of the most powerful artifacts in the world—the Cornerstone called the Name of All Things. And if Janel is right, then there may be nothing in the world that can stop Relos Var from getting what he wants.

And what he wants is Kihrin D'Mon.

Jenn Lyons continues the Chorus of Dragons series with The Name of All Things, the epic sequel to The Ruin of Kings

A Chorus of Dragons
1: The Ruin of Kings
2: The Name of All Things
3: The Memory of Souls
About the Author
---
Jenn Lyons Jenn Lyons lives in Atlanta, Georgia, with her husband, three cats and a nearly infinite number of opinions on anything from Sumerian mythology to the correct way to make a martini. Lyons traces her geek roots back to playing first edition Dungeons & Dragons in grade school and reading her way from A to Z in the school's library. Formerly an art director and video game producer, she now spends her days writing fantasy. In 2020, she was nominated for the Astounding Award for Best New Writer. Her five-book Chorus of Dragons fantasy series begins with The Ruin of Kings.
Praise For…
---
"Simply put: This is top-notch adventure fantasy written for a 21st-century audience—highly recommended."—Kirkus, starred review for The Name of All Things

"Lyons proves she is worthy of comparison to other masters of epic fantasy."—Booklist, starred review for The Name of All Things

"Lyons is creating a complex and wonderful series that will immerse and delight."—Library Journal on The Name of All Things


Praise for The Ruin of Kings:

"An impressive and highly accomplished debut . . . both an ideal introduction to epic fantasy and a rewarding read for fans of the genre."—The Los Angeles Times

"Ms. Lyons is all set to take her readers on a long journey indeed, unfolding and unfolding like brilliant origami. So far, though, not a hairy chest in sight, nor a languishing maiden. Fantasy has moved on, and is all the better for it."—The Wall Street Journal

"[A] jaw-dropping, action-packed story of betrayal, greed, and grand-scale conspiracy . . . Lyons ties it all together seamlessly to create literary magic. Epic fantasy fans looking for a virtually un-put-down-able read should look no further."—Kirkus, starred review

"Tightly plotted . . . will leave epic fantasy fans eager for the second volume."—Publishers Weekly, starred review

"Those who enjoy the works of Brandon Sanderson and George R.R. Martin, with a grand cast of characters and a doublecross in every chapter, will find this on par with their beloved authors. . . . [A] stunning debut."—Library Journal, starred review

"With the scope and sense of fatality of Patrick Rothfuss and the well-choreographed action sense of Brandon Sanderson, Lyons leaps into the big leagues of epic fantasy and sticks the landing."—Booklist, starred review

"I couldn't stop. It's smart, it's innovative, it has absolutely bonkers action, and it has just enough humor to keep it from being too grim. it's irresistible, in other words. So don't resist. Just get ready."—Geekly

"The Ruin of Kings has everything you could want from an fantasy epic: Dragons! Demons! Krakens! Gods! Prophecies! Body-swapping! Ghosts! All of these elements might make it sound like The Ruin of Kings makes for a busy tome, but author Jenn Lyons weaves the tale beautifully, parsing out narrative information at a masterful pace through the story's cleverly structured fram tale."—Den of Geek

"Everything epic fantasy should be: rich, cruel, gorgeous, brilliant, enthralling and deeply, deeply satisfying. I loved it."—Lev Grossman, author of The Magicians

"It was one hell of a ride. I gobbled it up and was hungry for more."—Glen Cook, author of The Black Company

"The Ruin of Kings is a fascinating story about a compellingly conflicted young hero in an intriguingly complex world."—L. E. Modesitt, Jr., author of the Recluse series