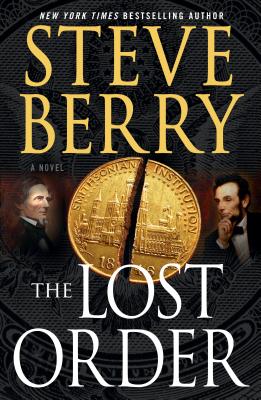 $19.99

Not Currently On The Shelf, But We Can Ship It To You In 3-5 Days
Other Books in Series
This is book number 12 in the Cotton Malone series.
Description
---
The Lost Order continues renowned New York Times bestseller Steve Berry's Cotton Malone series with another riveting, history-based thriller.

The Knights of the Golden Circle was the largest and most dangerous clandestine organization in American history. It amassed billions in stolen gold and silver, all buried in hidden caches across the United States. Since 1865 treasure hunters have searched, but little of that immense wealth has ever been found.

Now, one hundred and sixty years later, two factions of what remains of the Knights of the Golden Circle want that lost treasure—one to spend it for their own ends, the other to preserve it.

Thrust into this battle is former Justice Department agent Cotton Malone, whose connection to the knights is far deeper than he ever imagined. At the center is the Smithsonian Institution—linked to the knights, its treasure, and Malone himself through an ancestor, a Confederate spy named Angus "Cotton" Adams, whose story holds the key to everything. Complicating matters are the political ambitions of a reckless Speaker of the House and the bitter widow of a United States Senator, who together are planning radical changes to the country. And while Malone and Cassiopeia Vitt face the past, ex-president Danny Daniels and Stephanie Nelle confront a new and unexpected challenge, a threat that may cost one of them their life.

From the backrooms of the Smithsonian to the deepest woods in rural Arkansas, and finally up into the rugged mountains of northern New Mexico, The Lost Order by Steve Berry is a perilous adventure into our country's dark past, and a potentially even darker future.
About the Author
---
Steve Berry is the New York Times and #1 internationally bestselling author of the Cotton Malone novels (The Bishop's Pawn, The Malta Exchange), among other books, and several works of short fiction. He has 25 million books in print, translated into 40 languages.

With his wife, Elizabeth, he is the founder of History Matters, which is dedicated to historical preservation. He serves as an emeritus member of the Smithsonian Libraries Advisory Board and was a founding member of International Thriller Writers, formerly serving as its co-president.
Praise For…
---
"Berry raises this genre's stakes."—The New York Times

"I love this guy."—Lee Child

"One of Berry's best books to date."—Associated Press on The Patriot Threat

"My kind of thriller." — Dan Brown on The Amber Room

"Steve Berry is a master at weaving together historical details with fiction to create a spellbinding thriller…The Patriot Threat is suspenseful, entertaining and thought provoking. As usual, Berry's writing is smooth, the plot well thought out, and the characters realistic. Another winner from Steve Berry."—Examiner.com

"As always with Steve Berry, you're educated about significant things while your knuckles are turning white and the pages are flying by."—David Baldacci

"Every American should read [The Lincoln Myth]."—Florida Times Union

"Steve Berry's sizzling, scintillating and aptly titled The Patriot Threat…provides an extraordinarily well researched, prescient and beautifully structured tale that whisks us off across the globe and through history in search of an elusive truth dating to FDR. [Berry] remains a master of form and function, a stylist as well as a storyteller...Blistering reading entertainment at its level best."—Providence Journal

"The 10th installment in Mr. Berry's Cotton Malone series, The Patriot Threat is a fast-paced and entertaining traditional thriller along the lines of The Da Vinci Code. It's loaded with action, character sketches, fascinating history and Mr. Berry's liberal use of poetic license."—Pittsburgh Post-Gazette

"Another page-turning thriller blending history, speculation and face-paced action."—Kirkus Reviews on The Patriot Threat

"Another terrific blend of history and thrills." --Library Journal "Best of 2017"