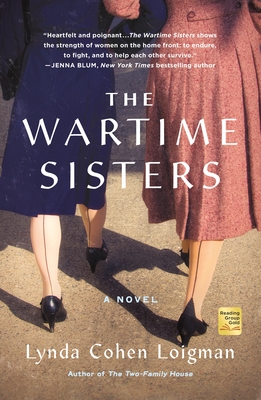 Staff Reviews
---
A poignant story set in the 30's and 40's including interesting American-front WWII history. A hard-to-put-down story with themes of betrayal, jealousy and loyalty. Good portrayal of estranged siblings each harboring a secret and their differing perspectives held throughout their lives. Good if you liked My Brilliant Friend.
— From
What Karin is Reading
Description
---
For fans of Lilac Girls, the next powerful novel from the author of Goodreads Choice Awards semifinalist The Two-Family House about two sisters working in a WWII armory, each with a deep secret.

"Loigman's strong voice and artful prose earn her a place in the company of Alice Hoffman and Anita Diamant, whose readers should flock to this wondrous new book." —Pam Jenoff, New York Times bestselling author of The Orphan's Tale

"The Wartime Sisters shows the strength of women on the home front: to endure, to fight, and to help each other survive." —Jenna Blum, New York Times and international bestselling author of The Lost Family and Those Who Save Us

Two estranged sisters, raised in Brooklyn and each burdened with her own shocking secret, are reunited at the Springfield Armory in the early days of WWII. While one sister lives in relative ease on the bucolic Armory campus as an officer's wife, the other arrives as a war widow and takes a position in the Armory factories as a "soldier of production." Resentment festers between the two, and secrets are shattered when a mysterious figure from the past reemerges in their lives.
About the Author
---
Lynda Cohen Loigman grew up in Longmeadow, MA. She received a B.A. in English and American Literature from Harvard College and a J.D. from Columbia Law School. She is now a student of the Writing Institute at Sarah Lawrence College, and lives with her husband and two children in Chappaqua, NY. The Two-Family House is her first novel.
Praise For…
---
"The Wartime Sisters is a heartfelt and poignant portrait of the complex bond between sisters, how our childhood roles define us as adults, and what dire consequences that can have, especially in times of war. The Wartime Sisters shows the strength of women on the home front: to endure, to fight, and to help each other survive." —Jenna Blum, New York Times and international bestselling author of The Lost Family and Those Who Save Us

"Fresh off her stunning debut The Two Family House, Lynda Cohen Loigman returns with The Wartime Sisters, an evocative home front tale set against the backdrop of the Springfield Armory during World War II. Through stoic, stubborn Ruth and her beautiful younger sister Millie, Loigman skillfully chronicles the complex sibling bonds and rivalries, the secrets we keep and truths that set us free. Loigman's strong voice and artful prose earn her a place in the company of Alice Hoffman and Anita Diamant, whose readers should flock to this wondrous new book." —Pam Jenoff, New York Times bestselling author of The Orphan's Tale

"A riveting tale of sibling rivalry and the magnetic dissonance of family, filled with heart-stopping truths that are both tender and wise. One of my favorite books of the year." —Fiona Davis, national bestselling author of The Masterpiece

"In her latest novel, Loigman once again deftly explores the complexities, heartbreaks, and fierce endurance of family bonds. Even amid the great tension and fears of the Second World War, The Wartime Sisters reminds the reader that the harshest battles are often fought here at home, with those we love and are meant to trust most. A stirring tale of loyalty, betrayal, and the consequences of long-buried secrets." —Kristina McMorris, New York Times bestselling author of The Edge of Lost and Sold on a Monday

"Complex and intricately woven, The Wartime Sisters is truly everything I love in a novel. Beautifully written, rich in historical detail, and anchored by two strong women who must reconcile their past—and their secrets—in order to survive. Loigman is a master storyteller and this novel had me from its very first page." —Alyson Richman, international bestselling author of The Lost Wife and The Velvet Hours

"The Wartime Sisters by Lynda Cohen Loigman is a powerful and moving story of secrets, friendship, and sisterhood. In Ruth and Millie, whom we follow from their childhood in Brooklyn to their entwined lives as young mothers at a wartime armory in Springfield, Loigman masterfully portrays the complicated sister relationship. Beautifully written, emotionally charged, and rich with historical detail, this novel, and these sisters, will stay with me long after I turned the last page." —Jillian Cantor, author of Margot and The Lost Letter

"With a perceptive lens on the challenges of whittling away grievances that have built up over years, The Wartime Sisters is a powerful pressure cooker of a family drama."—Booklist

"With measured, lucid prose, Loigman tells a moving story of women coming together in the face of difficulties, both personal and global, and doing anything to succeed." -Publishers Weekly