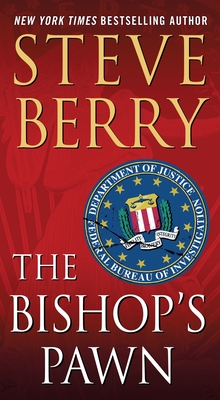 $9.99

Not Currently On The Shelf, But We Can Ship It To You In 3-5 Days
Other Books in Series
This is book number 13 in the Cotton Malone series.
Description
---
The Bishop's Pawn continues renowned New York Times top 5 bestseller Steve Berry's Cotton Malone series with another riveting, history-based thriller.

Martin Luther King, Jr. was murdered on April 4, 1968. Thirty-two years later, a young Cotton Malone happens upon an explosive secret about what really took place that day in Memphis.


"A compelling historical mystery with a terrific payoff."—Associated Press



Known as a maverick, Malone is a Navy lawyer in trouble when Stephanie Nelle, from the United States Justice Department, seeks his help in investigating a delicate situation involving a stolen rare coin and a rogue FBI faction. Soon Malone realizes that the Justice Department and the FBI are at war over something else entirely: a cache of secret files about the King assassination—documents thought long destroyed. Caught in the midst of this epic clash, Malone ultimately discovers a shocking truth—one that could threaten the legacy of the civil rights movement's greatest hero. From the clear waters of the Dry Tortugas to Florida and Washington, D.C., Malone's decision to see his mission through will not only change his own life, but the course of history itself.

"Fast-paced and exciting…Berry has a knack for presenting alternative history that seems as though it might be true."—Library Journal (starred review)
About the Author
---
Steve Berry is the New York Times and #1 internationally bestselling author of the Cotton Malone novels (The Bishop's Pawn, The Malta Exchange), among other books, and several works of short fiction. He has 25 million books in print, translated into 40 languages.

With his wife, Elizabeth, he is the founder of History Matters, which is dedicated to historical preservation. He serves as an emeritus member of the Smithsonian Libraries Advisory Board and was a founding member of International Thriller Writers, formerly serving as its co-president.
Praise For…
---
"Bestseller Berry's 13th thriller featuring U.S. government operative Cotton Malone (after 2017's The Lost Order) is an effective conspiracy yarn centered on Martin Luther King Jr.'s assassination. Berry makes Malone accessible to newcomers by presenting his numerous rookie mistakes as a field operative, but the anticlimactic reveal may disappoint some readers."-Publishers Weekly

"A compelling historical mystery with a terrific payoff."—Associated Press

"As fast-paced and exciting as all his previous books, this is another winner in the author's best-selling series. Berry's fans will not be disappointed. He has a knack for presenting alternative history that seems as though it might be true." – Library Journal, starred review

"It took him a while—a dozen books—to get around to it, but Berry has finally written Cotton Malone's origin story… [an] exciting tale of historical intrigue" – Booklist

"Berry has always 'hit it out of the park' with his books; with this, he's basically hit it to the moon and back. It is that good. Berry is outstanding, taking people on a hunt through the past that brings even more suspense to a crime that has never been forgotten." –Suspense Magazine

"This Cotton Malone case is a fast-paced, heart-pounding thriller with dark corners and passaiewgeways. The action hits the ground running and does not let up until the end. Steve Berry is a talented author who shakes things up by presenting alternate versions to historical events." – RT Book Reviews

"Berry mixes historical facts with his own fictions in a manner that readers of this terrific series have come to love. The Bishop's Pawn…keeps the suspense building until the final pages. It's one of the best books in a wonderful series." – Connecticut Post

"Berry doesn't so much as up the ante here as change the game. And the result is a tour de force that's everything a great thriller is supposed to be." – Providence Journal

"Berry deftly weaves historical facts and made-up fiction." – Florida Times Union

"A riveting adventure told in Berry's trademark style of pairing meticulously researched history with unexpected twists." – Southern Seasons