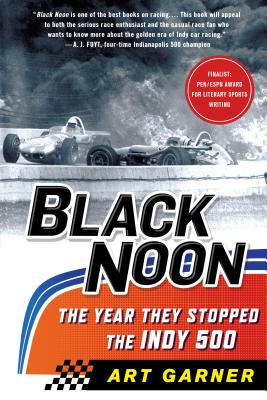 $17.99
Email or call for price.
Description
---

Winner of the 2014 Dean Batchelor Award, Motor Press Guild "Book of the Year"

Before noon on May 30th, 1964, the Indy 500 was stopped for the first time in history by an accident. Seven cars had crashed in a fiery wreck, killing two drivers, and threatening the very future of the 500.

Black Noon chronicles one of the darkest and most important days in auto-racing history. As rookie Dave MacDonald came out of the fourth turn and onto the front stretch at the end of the second lap, he found his rear-engine car lifted by the turbulence kicked up from two cars he was attempting to pass. With limited steering input, MacDonald lost control of his car and careened off the inside wall of the track, exploding into a huge fireball and sliding back into oncoming traffic.

Closing fast was affable fan favorite Eddie Sachs. "The Clown Prince of Racing" hit MacDonald's sliding car broadside, setting off a second explosion that killed Sachs instantly. MacDonald, pulled from the wreckage, died two hours later.

After the track was cleared and the race restarted, it was legend A. J. Foyt who raced to a decisive, if hollow, victory. Torn between elation and horror, Foyt, along with others, championed stricter safety regulations, including mandatory pit stops, limiting the amount a fuel a car could carry, and minimum-weight standards.

In this tight, fast-paced narrative, Art Garner brings to life the bygone era when drivers lived hard, raced hard, and at times died hard. Drawing from interviews, Garner expertly reconstructs the fateful events and decisions leading up to the sport's blackest day, and the incriminating aftermath that forever altered the sport.

Black Noon remembers the race that changed everything and the men that paved the way for the Golden Age of Indy car racing.
About the Author
---
A 14-year-old ART GARNER attended his first auto race in 1966, when his dad took him to see the United States Grand Prix in Watkins Glen, N.Y. He was hooked. Shortly thereafter he won a high school sports writing award from the Detroit Press Club, launching a writing and public relations career that has intertwined with motorsports for more than 35 years.

A journalism graduate of Michigan State University, auto racing was just one of the sports Garner covered for the Marietta Daily Journal newspaper chain near Atlanta. To help make ends meet, he handled promotional duties at the local 3/8-mile stock car track. From there he moved into automotive world where he has worked for Ford, Toyota, and Honda in various public relations executive positions.

For business and pleasure, Garner has attended races at virtually every major track in America and some not so major. From Indianapolis and Daytona, to Georgia's Dixie Speedway and Michigan's Flat Rock Raceway, the stories behind the men and the competition have always been a compelling part of his passion for the sport. Black Noon tells one of those stories.
Praise For…
---
"The heart and soul of Black Noon is Garner's insightful and sensitive weaving of racing life and American life in the early '60s…Garner's intrepid research and in-depth interviews with those who lived that day of destiny gave him the tools needed to bring a moment in time vividly alive a half century later…Black Noon gives life to the pure and original spirit of the sport and reminds us what Indy car racing represents when it is truly worth risking everything for… Art Garner's Black Noon is a thoughtful and truthful story of his [Dave MacDonald] and Eddie Sachs' final race and that it could be the most important motor racing book of 2014." —Racer Magazine

"Garner writes a lot about that fateful May day in Indiana, and the days before and after it. The book offers a good education, particular for the casual fan…Black Noon happened a long time ago, but Garner is correct is saying that this is a story worth telling. It was an important day in auto racing history, and deserves the good treatment that this book provides. Four stars." —Buffalo News / All Sports Book Reviews

"A very well written and informative book…This book is highly recommended to both the casual racing and the hard-core motorsport historian types. This book transfers you back to May of 1964, a time many of us would like to go back to, however perhaps shortening the month by two days." —Racing Nation

"Coming up on the 50th anniversary of one of the most tragic days in Indianapolis 500 history, when Eddie Sachs and Dave MacDonald were killed in a fiery crash in 1964, first-time author Garner recounts the tragic accident and the events leading up to and following the race. An avid race fan and former automobile public relations executive, Garner covers almost every aspect of the race from the drivers and their cars to the emergence of the "funny cars," the competing tire brands, and the ongoing controversial ethanol debate. While machines dominate much of the work, Garner is careful to not forget legends like A.J. Foyt and Bobby Unser, and his descriptions of the carefree Sachs and reticent MacDonald keeps the work focused. A great way for motor sports fans to learn about how their favorite sport's dark past influenced its bright future, this work proves Garner is off to a fast start as a racing writer." —Publishers Weekly

"A good story, and an important one, Black Noon is highly recommended." —The Hamilton Spectator

"Using hundreds of sources, including books, newspaper articles, and personal interviews, Garner re-creates in great detail the awesome spectacle of the Indianapolis 500, one of America's great sporting events, and the tragedy that took two drivers' lives in 1964…a fitting tribute to the men who helped transform racing, sometimes with their lives, 50 years ago." —Booklist

"Black Noon captures the era when I first started racing at Indianapolis and brought back a lot of memories--good and bad--that I had long forgotten. It was a hard time to be a race driver; we figured there was a 50/50 chance of being killed in a race car. And unfortunately that was acceptable. That is truly the scary part. The accident that stopped the '64 race and killed Eddie Sachs and Dave MacDonald was absolutely terrible--possibly the worst I ever saw. But it also forced our sport to change and put a new emphasis on safety. We all thank God for Bill Simpson and Goodyear Tire Co, as they were the leaders in safety for that day. This is one of the best racing books I've read and covers an important part of our history that often goes overlooked. I'd recommend it for everyone from the racing historian to the casual sports fan." —Bobby Unser, three-time Indianapolis 500 champion

"Calling itself the greatest spectacle in racing, the Indianapolis 500 for more than 100 years has generated interest that rivals the Kentucky Derby and the Super Bowl as a single day sporting event. On this stage in 1964, tragedy struck on what would be the race's darkest day. Art Garner has written the definitive account of the accident that halted the race and took the lives of two racers, cagey veteran Eddie Sachs and rising star Dave MacDonald. With interviews of such legends as A.J. Foyt, Dan Gurney, Parnelli Jones and Bobby Unser, Garner weaves a compelling and intriguing tale of the events leading up to the race, the cause of the accident and the aftermath that forever changed the Indy 500." —Matt DeLorenzo, former editor-in-chief, Road & Track Magazine; former editor, AutoWeek Magazine

"Much has been written about the 1964 Indianapolis 500 and the horrific crash that claimed the lives of American racers Eddie Sachs and Dave MacDonald. But not until recently have race historians and internet bloggers uncovered a clearer picture of what really happened. Art Garner has written what is not only the most well-researched, comprehensive and accurate account of that day, he has boiled down years of research and hundreds of hours of in-depth interviews into what is – beyond a doubt – the definitive book on the people, the cars, and the forces that came together in that fateful race." —The Family of Dave MacDonald

"Black Noon is one of the best books on racing that I've come across. It's packed full of interesting stories about all of us who competed in the '64 Indy 500, giving readers new insight into how that tragic day unfolded. That victory was one of the greatest and definitely the saddest of my career. Art Garner captures not just that day but that whole era through his perceptive reporting. I think this book will appeal to both the serious race enthusiast and the casual race fan who wants to know more about the golden era of Indy car racing." —A.J. Foyt, International Motorsports Hall of Fame inductee and winner of the 1964 Indianapolis 500

"The 1964 Indy 500 is a part of racing history that needs to be preserved for the future and Black Noon does it! It provides plenty of funny and teary remembrances of the drivers, owners, crew members and track personnel from that terrible day." —Eddie Sachs Jr.