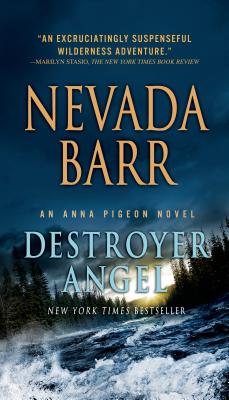 Other Books in Series
This is book number 18 in the Anna Pigeon Mysteries series.
Description
---
"Gripping...BREATHTAKING...complex."-Publishers Weekly (starred review)

In Nevada Barr's New York Times bestseller Destroyer Angel, Anna Pigeon, a ranger for the U.S. Park Services, sets off on a much-needed vacation: an autumn camping trip in the Iron Range in upstate Minnesota. With Anna is her friend Heath, a paraplegic; Elizabeth, Heath's fifteen-year-old daughter; Leah, a wealthy designer of outdoor equipment; and Katie, Leah's thirteen-year-old daughter. For Heath, this getaway is the ultimate test to see whether Leah's camping gear can help make wilderness adventures more accessible to the disabled. So far, so good. . .

"BARR IS ONE OF THE BEST!"-Boston Globe

Until their second night, when Anna decides to go for a solo evening float on the Fox River. When she returns to the campsite, she is shocked to see, with her own two eyes, that a group of heavily armed thugs have abducted Heath and the others. Now, with limited resources and no access to the outside world, Anna must find a way to rescue the women from their captors-and brave the elements of the unforgiving North Woods-before it's too late. And time is running out...

"Equal parts PSYCHOLOGICAL THRILLER and WILDERNESS-SURVIVAL tale...Top-tier white-knuckle suspense."-Booklist
About the Author
---
Nevada Barr is the author of the series of New York Times bestselling novels featuring Anna Pigeon, a law enforcement park ranger. Her novels include Winter Study, Borderline and Burn. She won the Agatha Award for Best First Novel for Track of the Cat. Like her character, Barr worked for the National Park Service as a park ranger before resigning to write full time. She had postings to such parks as Guadalupe Mountains National Park in Texas (where Anna Pigeon was created) and Natchez Trace Parkway in Mississippi. She lives in New Orleans.
Praise For…
---
"A harrowing survival story, well imagined and forcefully told." —Marilyn Stasio, The New York Times Book Review on THE ROPE

"Gripping…suspenseful…a tightly coiled story about trust and rebuilding a life, set against a stunning landscape." —South Florida Sun Sentinel on THE ROPE

"Engrossing…this is pure joy for a real fan. Barr has outdone herself." —Charlotte Observer on THE ROPE

"Terrifying…Dark and visceral, the novel is sure to appeal to Barr's legion of fans, especially those who have been clamoring for the author to light the shadows of Anna's past...A crisply written and revelatory entry in the Pigeon series." —Booklist on THE ROPE

"Barr's exciting 17th Anna Pigeon thriller takes readers where they've wanted to go for years--to Anna's beginnings as a park ranger.…Misdirection and a rising body count ratchet up the tension." —Publishers Weekly on THE ROPE

"Barr's luxuriant depictions of desert landscapes with its colors and hues and details about Lake Powell's tourist population are interwoven into the narrative as an indispensable element of her popular series. Anna emerges from this canyon escapade as a strong, determined woman...Verdict: Another awesome winner for Barr." —Library Journal on THE ROPE

"This uncharacteristically urban novel may not present Anna with any endangered species to protect or environmental threats to ward off, but it does give her a chance to prove that her outdoor skills are adaptable to city streets. The harrowing plot...provides Barr with an opportunity to sharpen her characters. ..[With Burn] Barr is writing with the kind of ferocity she usually saves for her backcountry adventures." —Marilyn Stasio, The New York Times Book Review on BURN

"Nevada Barr is one of the best." —Boston Globe on BURN

"Engrossing...ingenious...inventive and sharply observed." —The Washington Post on BURN

"Anna Pigeon remains an irresistible protagonist; but, to Barr's credit, Claire Sullivan is her finest fictional creation since Anna...Burn finds Nevada Barr turning out prose that practically sizzles." —Denver Post on BURN

"Outstanding…. Anna's complex personality continues to elevate the series, and the ranger's sojourn to New Orleans further energizes this always reliable series." —Publishers Weekly (starred review) on BURN

"Suspenseful plotting." —Oregon Live.com on BURN

"Abundant suspense." —The Oklahoman on BURN

"Burn will smolder in your heart long after you're done." —Madison County Herald on BURN

"Barr's strong, evocative writing explores the scenery as well as the characters." —South Florida Sun-Sentinel on BURN

"From the fabric of fiction Barr creates real worlds, sometimes beautiful, sometimes terrifying, but always convincing." —San Diego Union-Tribune on BURN

"Solid and suspenseful plotting. A definite winner." —Booklist on BURN

"Barr has written another hit [that] her fans will devour." —Library Journal on BURN

"A rare treat…Told with all Barr's usual verve and eye for detail and with a solid, tight plot." —The Globe and Mail (Toronto) on BURN