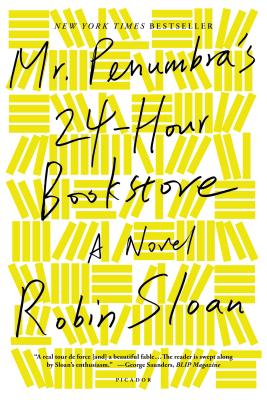 Staff Reviews
---
If Dan Brown married a librarian, this would be their child. Clay Jannon needs a job, any job. He finds one in a most unusual bookstore. Oh sure, this store carries a few classics, even a few popular books. But, the bulk of the store is devoted to the "Waybacklist," a strange collection that nobody buys, only borrows. The customers for the Waybacklist are also a very different breed, mostly older, usually frantic, definitely quirky, and definitely a part of something outside the box. A centuries-old and irresistible mystery begins to unfold and Clay finds himself front and center in the plot to unravel it. Once upon a time, books were the height of technology, as revolutionary as Facebook and Twitter. But, in an age when you can Google almost anything, how do you Google information only contained in a 500 year old book? How can you interface the old with the new? Unlike the protagonist of a Dan Brown novel, Clay Jannon understands the absurdity of his quest. A fun and creative debut and a must for bibliophiles and technophiles alike.
— From
What Christopher is reading
October 2012 Indie Next List
---
"Booksellers and book lovers alike will adore charming Mr. Penumbra and his towering stacks of mysterious, code-filled tomes, as well as the array of eccentric old men that make up the store's late-night clientele. I now want to keep a log of our bookshop's customers by Mr. Penumbra's criteria: 'You must keep precise records of all purchases. Time. Amount. The customer's appearance. His state of mind. How he asks for the book. How he receives it. Does he appear to be injured. Is he wearing a sprig of rosemary on his hat. And so on.' Wonderful!"
— Andrea Aquino, Bookshop Santa Cruz, Santa Cruz, CA
Description
---
The New York Times Bestseller

A Winner of the Alex Award, a finalist for the Los Angeles Times Book Prize for First Fiction, named a Best Book of the Year by NPR, Los Angeles Times, and San Francisco Chronicle

The Great Recession has shuffled Clay Jannon away from life as a San Francisco web-design drone and into the aisles of Mr. Penumbra's 24-Hour Bookstore. But after a few days on the job, Clay discovers that the store is more curious than either its name or its gnomic owner might suggest. The customers are few, and they never seem to buy anything—instead, they "check out" large, obscure volumes from strange corners of the store. Suspicious, Clay engineers an analysis of the clientele's behavior, seeking help from his variously talented friends. But when they bring their findings to Mr. Penumbra, they discover the bookstore's secrets extend far beyond its walls. Rendered with irresistible brio and dazzling intelligence, Robin Sloan's Mr. Penumbra's 24-Hour Bookstore is exactly what it sounds like: an establishment you have to enter and will never want to leave.
About the Author
---
Robin Sloan grew up in Michigan and now splits his time between San Francisco and the Internet. He is the author of Mr. Penumbra's 24-Hour Bookstore and Sourdough.
Praise For…
---
"A real tour de force [and] a beautiful fable...The reader is swept along by Sloan's enthusiasm." —George Saunders, BLIP Magazine

"Part love letter to books, part technological meditation, part thrilling adventure, part requiem... Eminently enjoyable, full of warmth and intelligence." —The New York Times Book Review

"A book about passion--for books, for history, for the future...There is nothing about Mr. Penumbra's 24-Hour Bookstore that I didn't love." —Cory Doctorow

"Delightful." —Graham Joyce, The Washington Post

"An irresistible page-turning novel." —Newsweek

"One of the most thoughtful and fun reading experiences you're likely to have this year...There's so much largehearted magic in this book." —NPR

"A jaunty, surprisingly old-fashioned fantasy about the places where old and new ways of accessing knowledge meet...[Mr. Penumbra's 24-Hour Bookstore] cleverly uses the technological age in the service of its fantasy...Sloan's ultimate answer to the mystery of what keeps people solving Penumbra's puzzle is worth turning pages to find out." —Tess Taylor, San Francisco Chronicle

"[A] winning literary adventure...Sloan grounds his jigsawlike plot with Big Ideas about the quest for permanence in the digital age." —Thom Geier, Entertainment Weekly

"Fantastic...I loved diving into the world that Sloan created, both the high-tech fantasyland of Google and the ancient analog society. It's packed full of geeky allusions and wonderful characters, and is a celebration of books, whether they're made of dead trees or digits." —Jonathan H. Liu, Wired, GeekDad

"Sloan makes bits and bytes appear beautiful. ...The rebels' journey to crack the code--grappling with an ancient cult, using secret passwords and hidden doorways--will excite anyone's inner child." —The Economist

"Man, is this book fun--especially for any book nerd who isn't in denial about living in the modern age. If you love physical books (the smell! The feel!) but wouldn't give up your iPhone for any reason, if you like puzzles and geeky allusions and bookish cults and quests, then this book is for you. It also glows in the dark." —Emily Temple, Flavorpill

"What makes Mr. Penumbra's 24-Hour Bookstore so impressive is Sloan's great gift for storytelling and his cast of brilliant, eccentric characters. Think of this novel as part Haruki Murakami, part Dan Brown and part Joseph Cornell: a surreal adventure, an existential detective story and a cabinet of wonders at which to marvel." —Carmela Ciuraru, Newsday

"Beguiling...The plot is as tight as nesting boxes, or whatever their digital equivalent...Sly and infectious." —Karen R. Long, The Cleveland Plain Dealer

"Sloan isn't just exploring new ideas, but laying the groundwork for a new genre of literature. While the influence of Neal Stephenson and William Gibson is present, Mr. Penumbra's 24-Hour Bookstore is something all its own: a technocratic adventure where every riddle and puzzle is solved with very real gadgets, a humanizing reflection on technology that evokes the tone of a fairy tale, a brisk and brainy story imbued with such confidence that it will leave you with nothing but excitement about the things to come." —Kevin Nguyen, Grantland

"In a time when actual books are filling up tag-sale dollar boxes, along with VHS tapes and old beepers, Mr. Penumbra's 24-Hour Bookstore reminds us that there is an intimate, adventurous joy in the palpable papery things called novels, and in the warm little secret societies we used to call 'bookstores.' Robin Sloan's novel is delightfully funny, provocative, deft, and even thrilling. And for reasons more than just nostalgia, I could not stop turning these actual pages." —John Hodgman

"The love child of Erin Morgenstern's The Night Circus and Neal Stephenson's Reamde, Mr. Penumbra's 24-Hour Bookstore is a hugely enjoyable story of friendship, living, and the lure of the mysterious. It's a good-hearted, optimistic book about the meeting of modern technology and medieval mystery, a tonal road map to a positive relationship between the old world and the new. It's a book that gets it. Plus, you know: cryptographic cults, vertical bookshops, hot geeks, theft, and the pursuit of immortality. I loved it. And yes, I too would freeze my head." —Nick Harkaway

"Robin Sloan is a skilled architect, and Mr. Penumbra's 24-Hour Bookstore is an ingeniously designed space, full of mysteries and codes. A clever, entertaining story that also manages to be a thought-provoking meditation on progress, information and technology. Full of intelligence and humor." —Charles Yu