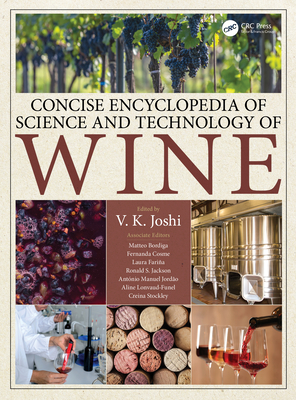 Email or call for price.
Coming Soon - Available for Pre-Order Now
Description
---
When asking the question what is wine? there are various ways to answer. Wine is extolled as a food, a social lubricant, an antimicrobial and antioxidant and a product of immense economic significance. But there is more to it than that. When did humans first start producing wine and what are its different varieties? Are wines nutritious or have any therapeutic values--do they have any role in health or are they simply intoxicating beverages? How are their qualities determined or marketed and how are these associated with tourism? Concise Encyclopedia of Science and Technology of Wine attempts to answer all these questions and more.
This book reveals state-of-the-art technology of wine making, describing various wine regions of the world and different cultivars used in wine making. It examines microbiology, biochemistry, and engineering in the context of wine production. The sensory qualities of wine and brandy are explored, and the composition, nutritive and therapeutic values, and toxicity are summarized. Selected references at the end of each chapter provide ample opportunity for additional study.
Key Features:
Elaborates on the recent trends of control and modeling of wine and the techniques used in the production of different wines and brandies
Focuses on the application of biotechnology, especially genetic engineering of yeast, bioreactor technological concepts, enzymology, microbiology, killer yeast, stuck and sluggish fermentation, etc.
Illustrates the biochemical basis of wine production including malolactic fermentation
Examines marketing, tourism and the present status of the wine industry
Concise Encyclopedia of Science and Technology of Wine contains the most comprehensive, yet still succinct, collection of information on the science and technology of wine making. With 45 chapters contributed by leading experts in their fields, it is an indispensable treatise offering extensive details of the processes of wine making. The book is an incomparable resource for oenologists, food scientists, biotechnologists, postharvest technologists, biochemists, fermentation technologists, nutritionists, chemical engineers, microbiologists, toxicologists, organic chemists, and the undergraduate and postgraduate students of these disciplines.
About the Author
---
Professor V.K. Joshi, MSc, PhD, is an eminent scientist and a teacher with more than 35 years research experience in fruit fermentation technology, fermented foods, food toxicology, biocolor, quality assurance, and waste utilization. He is the former head of the Department of Postharvest Technology and currently the head of Department of Food Science and Technology, at the same university. He has made a very significant contribution to development of technology of non-grape fruit wines, apple pomace utilization, lactic acid and indigenous fermented foods. A recipient of several awards for research and teaching, he has guided several postgraduate students, authored or edited more than 10 books and more than 300 research, reviews, book chapters and popular articles besides presenting several lead papers in conferences and seminars.