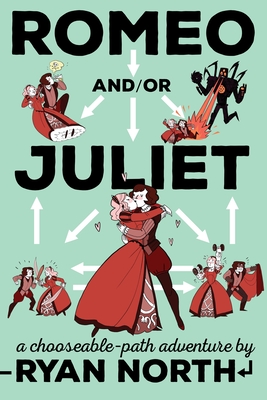 Staff Reviews
---
A choose-your-own-adventure that confronts the many absurdities of Shakespeare's most famous rom-com/murder-fest. Richly illustrated by a host of talented artists, you can finally learn what would have happened if Juliet hadn't trusted the oddly poison-happy friar and taken matters into her own hands. Or if Benvolio had used an ounce of chill instead of starting fights at every opportunity. More than a hundred possible endings and at least twice as many laughs.
— From
What Adri is Reading
Description
---
The New York Times bestseller from the author of How to Invent Everything and To Be or Not To Be

Romeo loves Juliet. Or Rosaline. And Juliet loves Romeo. Or Viola. Or Orlando. It's Shakespeare as you've never played him before.

In this choose-your-own-path version of Romeo and Juliet, you choose where the story goes every time you read! What if Romeo never met Juliet? What if Juliet got really buff instead of moping around the castle all day? What if they teamed up to take over Verona with robot suits? Whatever your adventure, you're guaranteed to find lots of romance, lots of epic fight scenes, and plenty of questionable decision-making by very emotional teens.

All of the endings—there are over a hundred—feature beautiful illustrations by some of the greatest artists working today, including New York Times bestsellers Kate Beaton, Noelle Stevenson, Randall Munroe, and Jon Klassen.

Packed with exciting choices, fun puzzles, secret surprises, terrible puns, and more than a billion possible storylines, Romeo and/or Juliet offers a new experience every time you read it. You can choose to play as Romeo or Juliet (obviously) but you can also play as both of them, or as Juliet's nurse, or, if you're good, you can even unlock a fourth playable character! That's right. We figured out how to have unlockable characters in books. Choose well, and you may even get to write the world's most awkward choose-your-own sex scene.
About the Author
---
Ryan North is a New York Times-bestselling author and cartoonist. His previous choose-your-own-path Shakespeare book, To Be or Not To Be, became Kickstarter's most-funded publishing project when it launched. That one was about Hamlet. North writes the popular webcomic Dinosaur Comics and the critically acclaimed Unbeatable Squirrel Girl for Marvel Comics, and he wrote the first thirty-five issues of Adventure Time, for which he won an Eisner Award. That's like the Oscars of comics! There's a gala and everything. He lives in Toronto with his wife, Jenn, and their dog, Noam Chompsky.
Praise For…
---
Winner of the American Library Association's Alex Award for the best adult books that appeal to teen audiences

"Shakespeare with even more sex, cryptography, time travel and alternate endings than the original! Ryan North is the only writer I know who's smart enough and funny enough to pull this off." —Lev Grossman, author of the Magicians trilogy

"[A] ridiculously fun book…Ryan North is awesome…It is as hilarious and funny and strange as you would imagine…so crazy, so much fun…It's fantastic," —BookRiot

"This book/game is so entertaining and downright hilarious that I guarantee you will... have an amazing time. In fact, you'll probably end up buying multiple copies to give to your friends and family." —Geek & Sundry

"Written with the finest distilled charm and genuine enthusiasm. Entertaining and extremely satisfying." —Kate Beaton, author of Hark! A Vagrant and Step Aside, Pops

Praise for previous work by Ryan North:

"Reference mixed with irreverence--that's what makes To Be or Not to Be so much fun."—Slate

"Ryan North's The Best of Dinosaur Comics: 2003-2005 A.D. had me howling with laughter and passing the book around to whomever I could lay hands on to point out particularly good strips. Dinosaur Comics is an unlikely gem of a webcomic."—Cory Doctorow, Boing Boing

"Machine of Death is a marvelous collection, riddled with intelligence, creative reach, and a frankness that makes the best use of the central gimmick."—Tasha Robinson, The Onion A.V. Club

"This Is How You Die is a brilliantly addictive book that reads like a series of existential, death-obsessed Twilight Zone episodes. Very highly recommended."—Seth Grahame-Smith, author of Abraham Lincoln: Vampire Hunter
Coverage from NPR