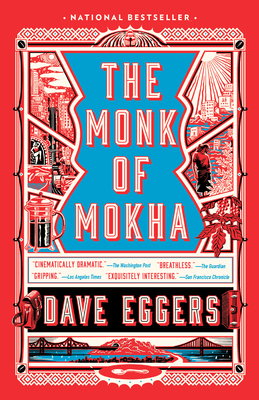 Staff Reviews
---
Mokhtar is likeable and his story interesting. I've always appreciated Egger's biographies and writing. I'll taste coffee with a new appreciation -- it is amazing that a cup doesn't cost $50.
— From
What Karin is Reading
Description
---
The Monk of Mokha is the exhilarating true story of a young Yemeni American man, raised in San Francisco, who dreams of resurrecting the ancient art of Yemeni coffee but finds himself trapped in Sana'a by civil war.

Mokhtar Alkhanshali is twenty-four and working as a doorman when he discovers the astonishing history of coffee and Yemen's central place in it. He leaves San Francisco and travels deep into his ancestral homeland to tour terraced farms high in the country's rugged mountains and meet beleagured but determined farmers. But when war engulfs the country and Saudi bombs rain down, Mokhtar has to find a way out of Yemen without sacrificing his dreams or abandoning his people.
About the Author
---
Dave Eggers is the author of eleven books, including: The Circle; Heroes of the Frontier, longlisted for the International DUBLIN Literary Award; A Hologram for the King, a finalist for the National Book Award; and What Is the What, a finalist for the National Book Critics Circle Award and winner of France's Prix Médicis Etranger and the Dayton Literary Peace Prize. His nonfiction and journalism has appeared in The Guardian, The New Yorker, Best American Travel Writing, and Best American Essays. He is the founder of McSweeney's, the publishing company that distributes the Voice of Witness series of books, which use oral history to illuminate human rights crises around the world. He is the cofounder of 826 National, a network of youth writing and tutoring centers with locations around the country, and ScholarMatch, which connects donors with students to make college accessible. He is a member of the American Academy of Arts and Letters, and his work has been translated into forty-two languages. He lives in Northern California with his family.

www.daveeggers.net; www.826national.org; www.scholarmatch.org; www.voiceofwitness.org; www.valentinoachakdeng.org; www.mcsweeneys.net
Praise For…
---
"Exquisitely interesting… This is about the human capacity to dream—here, there, everywhere." —Gabriel Thompson, San Francisco Chronicle
 
"A cracking tale of intrigue and bravery… A gripping, triumphant adventure story." —Paul Constant, Los Angeles Times

"I wish someone had asked me to blurb The Monk of Mokha so I could have said, 'I couldn't put it down,' because I couldn't put it down." —Ann Patchett, Parnassas Bookstore blog
 
"A true account of a scrappy underdog, told in a lively, accessible style... Absolutely as gripping and cinematically dramatic as any fictional cliffhanger." —Michael Lindgren, The Washington Post

"Remarkable… offers hope in the age of Trump… Ends as a kind of breathless thriller as Mokhtar braves militia roadblocks, kidnappings and multiple mortal dangers." —Tim Adams, The Guardian
 
"A heady brew… Plainspoken but gripping… Dives deep into a crisis but delivers a jolt of uplift as well." —Mark Athitakis, USA Today
 
"A vibrant depiction of courage and passion, interwoven with a detailed history of Yemeni coffee and a timely exploration of Muslim American identity." —David Canfield, Entertainment Weekly

"The Monk of Mokha is not merely about 'coming to America,' it is a thrilling chronicle of one man's coming-and-going between two beloved homelands—a brilliant mirror on the global community we have become." —Marie Arana, author of American Chica and Bolivar: American Liberator

"This American coming of age story reminds us all of how much our country is enriched by all who call it home." —Dalia Mogahed, author of Who Speaks For Islam?: What a Billion Muslims Really Think
 
"Here's a story for our time: filled with ethos and pathos. You'll laugh, cry, and discover worlds unknown to most. From scamming in the Tenderloin to dodging bombs in Yemen, Mokhtar and Eggers take us on a worthwhile ride through the postmodern topography of our times." —Hamza Hanson Yusuf

"Like many great works, Eggers' book is multifaceted. It combines, in a single moving narrative, history, politics, biography, psychology, adventure, drama, despair, hope, triumph and the irrepressible, indomitable nature of the human spirit –at its best." —Imam Zaid Shakir
 
"In telling Mokhtar's story with such clarity, honesty, and humor, Eggers allows readers to consider Yemen and Yemenis – long invisible, side-lined, or maligned in the American imagination – in their wonderful and complicated fullness." —Alia Malek, author of The Home That Was Our Country: A Memoir of Syria  and A Country Called Amreeka: Arab Roots, American Stories