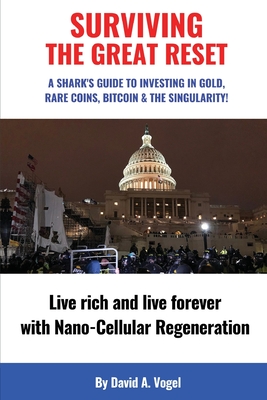 $99.00

Not Currently On The Shelf, But We Can Ship It To You In 3-5 Days
Description
---
The next big disruption...
...will change humanity forever.
Are you ready for the Great Reset?
In 2020, we learned that the entire population can be impacted by a single event. It changed our lives. The markets plummeted, for a while, and some knew how to be on the winning side of that dip. Every country on Earth seemed vulnerable.
Was anyone prepared?
The billionaires had a plan. Learn what Elon Musk, Jeff Bezos, Peter Thiel, Marc Cuban and Larry Ellison were doing to prepare financially. They have another secret, too.
They want to extend life expectancy.
Can we live for centuries?
Yes, and the wealthy are determined to unlock those mysteries. They're investing heavily in research and uncovering breakthrough advances. We can use their insights to figure out our own course.
You'll learn about:
- Cryptocurrency (Bitcoin and others)
- NFT's and Blockchain
- Diamonds, Gold, Silver, and Rare Coins
- The future of Artificial Intelligence
- Anti-Aging technology
- Wealth Building and Management.
- Health and Medicine
- Political realities
- and much more
If the U.S. dollar collapses or the next world-wide health crisis begins, then time will be short. You must be informed and have a strategy to survive. Better than that, this book will help you thrive.
In an uncertain future...
...the Great Reset may be the best opportunity you'll ever find.
You'll love this extensive resource, because it has all the explanations, graphs, and images you'll need to fully understand where society is headed.
Get it now.