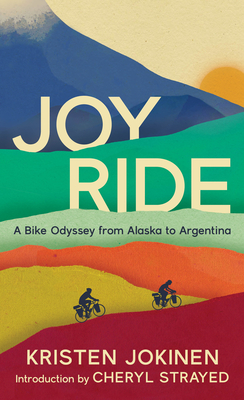 Staff Reviews
---
Seeking adventure and connection to the earth Kristen and Ville bike pack the length of the Americans – 18,000 miles! Having endured long-distance hikes but never any distance on a bike this seemed a fool's journey. Kristen writes of their steep learning curve as well as mountain passes, grueling weather and all the unknowns around each bend. Their connections with wonderful people along the way are highlights as well as her scenery descriptions and their voyage together. Great reading for adventure seekers, even armchair ones.
— From
What Karin is Reading
Description
---
Explorers Kristen and Ville Jokinen met and fell in love while scuba diving in Vietnam. Ville then left his native Finland to join Kristen in Oregon and together they embarked on a life-changing two-year cycling adventure covering 18,000 miles from Prudhoe Bay, Alaska, to Ushuaia, Argentina. Despite never having cycled further than around the block, they persevered unrelenting, punishing rain and wind, altitude sickness, dog attacks, bike accidents, and countless flat tires to cycle between the ends of the earth. Kristen and Ville believe that kindness connects us to our shared humanity. They held babies, attended quincea eras, drank pulque, played soccer, and visited schools. People in Mexico, Central America, and South America invited them into their hearts and homes, allowed them to camp in their fields and farms, and acted as personal tour guides. Kristen and Ville are love on wheels, and who doesn't need a little more love in their lives?