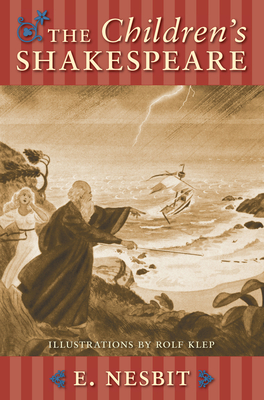 Description
---
As a writer, E. Nesbit understood that the stories are the least part of Shakespeare, but as a mother she also understood the need for simplicity. Envisioning this simplified introduction to works such as The Winter's Tale, Romeo and Juliet, A Midsummer Night's Dream and The Taming of the Shrew -- eleven plays in all -- E. Nesbit set out to make them more accessible to young readers without sacrificing any essential elements. For if the stories were stripped of their wit and humor, of their emotion, the children would be no more entertained by them than by the indecipherable originals. In the end, under E. Nesbit's gifted pen, these stories emerge with all the charm and grace of the very best fairy tales. Written in thoroughly modern English and each no more than ten pages in length, the eleven plays featured in this volume afford children the opportunity to discover for themselves the magic of Shakespeare.
About the Author
---
E. Nesbit 1858-1924, was an English author and poet, who wrote or collaborated on more than 60 works of fiction for children, several of which have been adapted for film and television and are still popular today, such as The Treasure Seekers and Five Children and It.
English author Edith Nesbit's impressive body of work includes poems, plays, novels, and even ghost stories, however, she is best known for her beloved children's adventure stories, published under the name E. Nesbit. Among Nesbit's best-known works are The Story of the Treasure-Seekers, The Railway Children, The Wouldbegoods and Five Children and It. Nesbit's novels departed from the children's literary tradition of fantasy-worlds popularized by Lewis Carroll and Kenneth Grahame, and instead focused on the adventures to be had from real-life experiences. Nesbit's work inspired other writers like C. S. Lewis, P. L Travers, and J. K. Rowling, and many of her stories have been adapted for film and television. In addition to writing, Nesbit was an activist and co-founded the Fabian Society, a socialist group that provided the foundation for the modern British Labour Party. Nesbit died in 1924.