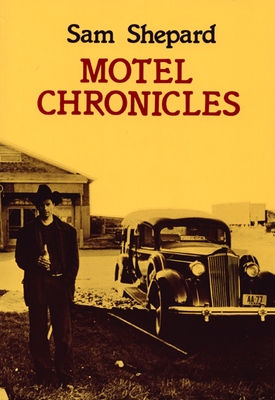 Description
---
Motel Chronicles reveals the fast-moving and sometimes surprising world of the man behind the plays that have made Sam Shepard a living legend in the theater.
Shepard chronicles his own life birth in Illinois, childhood memories of Guam, Pasadena and rural Southern California, adventures as ranch hand, waiter, rock musician, dramatist and film actor. Scenes from this book form the basis of his play Superstitions, and of the film (directed by Wim Wenders) Paris, Texas, winner of the Golden Palm Award at the 1984 Cannes Film Festival.
. . . essential reading. A scrapbook of short stories, autobiographical reveries, poetry and photographs, Motel Chronicles is full of verbal delights, as well as insights into its author's entire canon. Whether Mr. Shepard is reminiscing about his parents or daydreaming about cherished movies and cars of his youth, he speaks in pungent and ethereal language that remakes our West. Read in conjunction with the plays, Motel Chronicles also helps demystify the origins of Mr. Shepard's psychological obsessions and desolate frontier iconography.--Frank Rich, New York Times
If plays were put in time capsules, future generations would get a sharp-toothed profile of life in the U.S. in the past decade and half from the works of Sam Shepard.--Time
Sam Shepard is a shaman--a New World shaman. Sam is as American as peyote, magic mushrooms, Rock and Roll, and medicine bundles.--Jack Gelber
Sam Shepard (1943) is a playwright, actor, author, screen writer and director whose work is performed on and off Broadway and in other theaters across the country. In 1979, he received the Pulitzer Prize for Drama for his play Buried Child. In 1983, he was nominated for an Academy Award for Best Supporting Actor in The Right Stuff. His other famous works include True West, A Lie of the Mind and Curse of the Starving Class. Fool For Love & the Sad Lament of Pecos Bill by Sam Shepard was also published by City Lights Publishers.