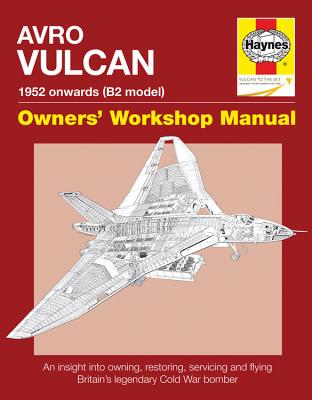 $36.95
Email or call for price.
Description
---
The awesome Avro Vulcan is an enduring image of the Cold War era when the world stood on the brink of nuclear annihilation. For many years the RAF's delta-wing jet bomber was the cornerstone of Britain's nuclear deterrent. Read about the Vulcan's operational history and take a close-up look at its construction. Discover what it takes to own and fly the mighty V-bomber, and find out how engineers keep it airworthy. Centrepiece of the manual is Vulcan XH558 - the world's only flying example of an Avro Vulcan.
About the Author
---
Tony Blackman is an ex-RAF aircrew officer and Vulcan test pilot.Dr Alfred Price served as an aircrew officer in the RAF until 1974. Since then he has been a full-time aviation historian and writer, and is acknowledged as a leading authority on the Spitfire. He is co-author of the Haynes Spitfire Manual.