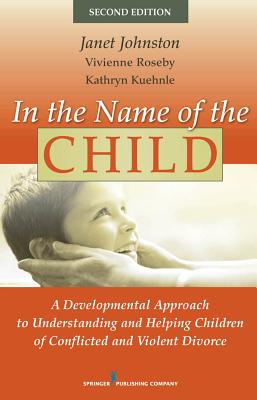 Description
---
"Johnston, Roseby, and Kuehnle take you behind the child's eyes, into their heads... they] flesh out the familial context, and bring it all back into the larger social world....When you are done reading, you know who these families are, what the children need, and -- as a clinician -- how you can help them."
--Marsha Kline Pruett, PhD, MSL
Maconda Brown O'Connor Professor
Smith College School for Social Work

"This book addresses problems that arise for children of conflicted and violent divorce....It provides a good base for beginning to treat children in this situation as well as good information for understanding the legal and community services available."
--Doody's
The fully updated and revised edition of In the Name of the Child examines both the immediate and long-term effects of high-conflict divorce on children. By combining three decades of research with clinical experience, the authors trace the developmental problems affecting very young children through adolescence and adulthood, paying special attention to the impact of family violence and the dynamics of parental alienation.
The authors present clinical interventions that have proven to be most effective in their own clinical work with families. With a new emphasis on the need for prevention and early intervention, this edition examines how defensive strategies and symptoms of distress in children can consolidate into immutable, long-standing psychopathology in their adult lives. This book contains the policies and procedures that can preempt these high-conflict outcomes in divorcing families.
Key Features:

Contains a new chapter examining the effects of violent divorce on a sample of young adults, tracking their developmental changes from adolescence through adulthood
Discusses the developmental threats to both boys and girls of different ages and stages, along with therapeutic interventions and guidelines for parenting plans
Proposes principles and criteria for decision-making about custody, visitation, and parenting plans based on individual assessment of the developing child within his or her family
Mental health professionals, educators, family lawyers, judges, and court administrators will find this book to be an essential read, with all the knowledge and insight needed to understand the short- and long-term effects of violent divorce on children.