Horoscopes for the Dead: Poems (Paperback)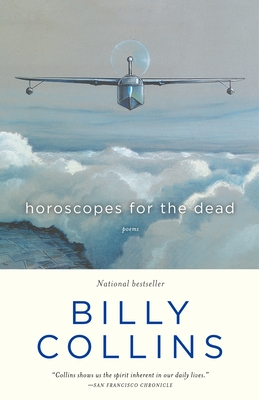 Staff Reviews
---
Christopher says: Collins continues in his fine tradition of taking the simplest of daily occurrences and packing them with profound meaning. The narrator of the title poem uses the act of reading horoscopes as way to imagine things that the departed are unable to do. Accessible and engaging, Collins is perfect for the casual reader and the serious student of poetry.
— From
What Christopher is reading
Description
---
WINNER—BEST POETRY—GOODREADS CHOICE AWARDS
 
NAMED ONE OF THE BEST BOOKS OF THE YEAR BY
NEWSWEEK/THE DAILY BEAST

NATIONAL BESTSELLER
 
Billy Collins is widely acknowledged as a prominent player at the table of modern American poetry. And in this smart, lyrical, and mischievous collection of poetry, which covers the everlasting themes of love and loss, youth and aging, solitude and union, Collins's verbal gifts are on full display.
About the Author
---
Billy Collins is the author of nine collections of poetry and the editor of Poetry 180: A Turning Back to Poetry, 180 More: Extraordinary Poems for Every Day, and Bright Wings: An Illustrated Anthology of Poems about Birds. He was Poet Laureate of the United States from 2001 to 2003 and Poet Laureate of New York State from 2004 to 2006.
Praise For…
---
"The most companionable of poetic companions."—The New York Times
 
"Collins continues his penchant for writing witty, companionable verse that's often rooted in everyday matters."—The Wall Street Journal

"Collins writes of time and death with humor and whirligig images and wordplay so unexpected and delectable, reading his poetry is like watching a magician transform ordinary objects—a coin, a card—into something breathtaking out of thin air."—Booklist
 
"This is the poet's richest work to date."—Newsday
 
"Beloved, witty, smart, yet accessible."—St. Petersburg Times
 
"Billy Collins is one of today's most popular poets, revered for his ability to evoke humor and heartbreak in verses both subtle and sagacious."—Wisconsin State Journal