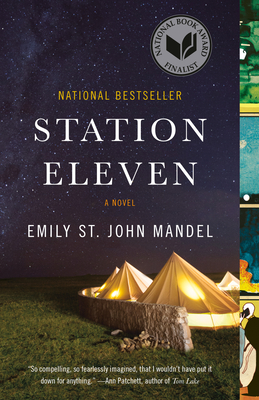 Staff Reviews
---
This post-apocalyptic novel takes place after a pandemic wipes out most of Earth's population. While it may seem a little too timely, this novel is a fantastic read. The novel follows seemingly unconnected characters through their journeys before, during, and after the outbreak of the Georgia Flu. Some of these storylines include the members of a traveling symphony, a famous actor and his three exwives, and a soon to be paramedic. Through her intricate storytelling, St. John Mandel seamlessly connects these plots into one unforgettable story of hope and loss.
— From
What Hannah is Reading
Recommended by middle school VMS teacher Collins Canada Kelly
— From
Teacher Recommendations for Adults
September 2014 Indie Next List
---
"This is a harrowing and wonderful book -- blunt and elegant, wise and frightening, and utterly plausible at every turn. The characters are complicated, but their stories, short or long, are always deeply engaging. We -- our species -- always find ways, little by little, not just to survive but also to reestablish a sense of place, of community, and of compassion. Unsentimental yet deeply moving, Station Eleven is a terrific achievement."
— John Christensen, Arcadia Books, Spring Green, WI
Description
---
NATIONAL BESTSELLER • An audacious, darkly glittering novel set in the eerie days of civilization's collapse—the spellbinding story of a Hollywood star, his would-be savior, and a nomadic group of actors roaming the scattered outposts of the Great Lakes region, risking everything for art and humanity. Soon to be a Max Original Limited Series on HBO Max.

A National Book Award Finalist • A PEN/Faulkner Award Finalist

Kirsten Raymonde will never forget the night Arthur Leander, the famous Hollywood actor, had a heart attack on stage during a production of King Lear. That was the night when a devastating flu pandemic arrived in the city, and within weeks, civilization as we know it came to an end.

Twenty years later, Kirsten moves between the settlements of the altered world with a small troupe of actors and musicians. They call themselves The Traveling Symphony, and they have dedicated themselves to keeping the remnants of art and humanity alive. But when they arrive in St. Deborah by the Water, they encounter a violent prophet who will threaten the tiny band's existence. And as the story takes off, moving back and forth in time, and vividly depicting life before and after the pandemic, the strange twist of fate that connects them all will be revealed.

Look for Emily St. John Mandel's new novel, Sea of Tranquility, coming in April 2022!
About the Author
---
Emily St. John Mandel was born in British Columbia, Canada. She is the author of three previous novels—Last Night in Montreal, The Singer's Gun, and The Lola Quartet—all of which were Indie Next picks. She is a staff writer for The Millions, and her work has appeared in numerous anthologies, including The Best American Mystery Stories 2013 and Venice Noir. She lives in New York City with her husband.

www.emilymandel.com
Praise For…
---
One of the Best Books of the Year: The Washington Post, San Francisco Chronicle, Chicago Tribune, Buzzfeed, and Entertainment Weekly, Time, Milwaukee Journal Sentinel, Minnesota Public Radio, The Huffington Post, BookPage, Time Out, BookRiot

 
"Station Eleven is so compelling, so fearlessly imagined, that I wouldn't have put it down for anything."
— Ann Patchett
 
"A superb novel . . . [that] leaves us not fearful for the end of the word but appreciative of the grace of everyday existence." —San Francisco Chronicle 

"Deeply melancholy, but beautifully written, and wonderfully elegiac . . . A book that I will long remember, and return to."
— George R. R. Martin

 "Absolutely extraordinary." —Erin Morgenstern, author of The Night Circus
 
 
"Darkly lyrical. . . . A truly haunting book, one that is hard to put down." —The Seattle Times
 
"Tender and lovely. . . . Equal parts page-turner and poem."—Entertainment Weekly
 
"Mesmerizing." — People
 
 "Mandel delivers a beautifully observed walk through her book's 21st century world…. I kept putting the book down, looking around me, and thinking, 'Everything is a miracle.'"—Matt Thompson, NPR  
 
"Magnificent." —Booklist
 
"My book of the year."—Karen Joy Fowler, author of We Are All Completely Beside Ourselves 
 
"Unmissable. . . . A literary page-turner, impeccably paced, which celebrates the world lost." —Vulture
 
"Haunting and riveting."—Milwaukee Journal Sentinel
 
"Station Eleven is the kind of book that speaks to dozens of the readers in me—the Hollywood devotee, the comic book fan, the cult junkie, the love lover, the disaster tourist. It is a brilliant novel, and Emily St. John Mandel is astonishing." —Emma Straub, author of The Vacationers
 
"Think of Cormac McCarthy seesawing with Joan Didion. . . . Magnetic."  —Kirkus (starred)

"Even if you think dystopian fiction is not your thing, I urge you to give this marvelous novel a try. . . . [An] emotional and thoughtful story." —Deborah Harkness, author of The Book of Life

"It's hard to imagine a novel more perfectly suited, in both form and content, to this literary moment. Station Eleven, if we were to talk about it in our usual way, would seem like a book that combines high culture and low culture—"literary fiction" and "genre fiction." But those categories aren't really adequate to describe the book" —The New Yorker

"Audacious. . . . A book about gratitude, about life right now, if we can live to look back on it." —Minneapolis Star-Tribune

"A surprisingly beautiful story of human relationships amid devastation." —The Washington Post

"Soul-quaking. . . . Mandel displays the impressive skill of evoking both terror and empathy." —Los Angeles Review of Books

"A genuinely unsettling dystopian novel that also allows for moments of great tenderness. Emily St. John Mandel conjures indelible visuals, and her writing is pure elegance." —Patrick deWitt, author of The Sisters Brothers

"Possibly the most captivating and thought-provoking post-apocalyptic novel you will ever read." —The Independent (London)

"A firework of a novel . . . full of life and humanity and the aftershock of memory." —Lauren Beukes, author of The Shining Girls

"One of the best things I've read on the ability of art to endure in a good long while." —Tobias Carroll, Electric Literature

"Will change the post-apocalyptic genre. . . . This isn't a story about survival, it's a story about living." —Boston Herald

 "A big, brilliant, ambitious, genre-bending novel. . . . Hands-down one of my favorite books of the year." —Sarah McCarry, Tor.com

"Strange, poetic, thrilling, and grim all at once, Station Eleven is a prismatic tale about survival, unexpected coincidences, and the significance of art." —Bustle, "Best Book of the Month"

"Disturbing, inventive and exciting, Station Eleven left me wistful for a world where I still live." —Jessie Burton, author of The Miniaturist
Coverage from NPR