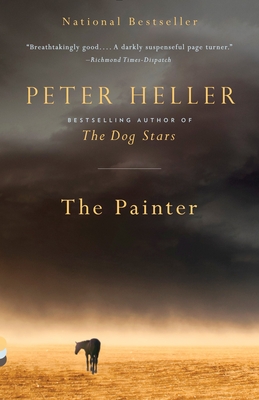 Staff Reviews
---
Karin: WOW - Great novel! Heller is a master at alternating between art and rage, good and evil, lyric descriptions and edge-of-your-seat action. I fond this a moving story of love, dark pasts, celebrity and the redeeming power of art. Highly recommended for both men and women.
— From
What Karin is Reading Archive
I have read pretty much everything Peter Heller has written but this one sticks out as my favorite. The main character is an artist who loves to fly fish and paint. He just wants to hide away in his Western Slope small town community. But then he witnesses a brutal attack on a horse and his life changes in a moment. I can picture the scenery as he drives the dirt roads around Paonia and then the desert near Santa Fe where he ends up in a life or death chase. Great storytelling and suspense!
— From
What Amy is Reading
Description
---
An Oprah.com "Must-Read" Book

After having shot a man in a Santa Fe bar, the famous artist Jim Stegner served his time and has since struggled to manage the dark impulses that sometimes overtake him.  Now he lives a quiet life. . . until the day that he comes across a hunting guide beating a small horse, and a brutal act of new violence rips his quiet life right open. Pursued by men dead set on retribution, Jim is left with no choice but to return to New Mexico and the high-profile life he left behind, where he'll reckon with past deeds and the dark shadows in his own heart. 
About the Author
---
Peter Heller is the best-selling author of The Dog Stars. He holds an MFA from the Iowa Writers' Workshop in both fiction and poetry. An award-winning adventure writer and a longtime contributor to NPR, Heller is a contributing editor at Outside magazine, Men's Journal, and National Geographic Adventure, and a regular contributor to Bloomberg Businessweek. He is also the author of several nonfiction books, including Kook, The Whale Warriors, and Hell or High Water: Surviving Tibet's Tsangpo River. He lives in Denver, Colorado.
Praise For…
---
"Breathtakingly good. . . A darkly suspenseful page turner." —The Richmond Times-Dispatch
 
"Suspense with literary chops. . . . A brilliant page-turner about an artist with a dark streak." —Reader's Digest
 
"A moving story about love, celebrity, and the redemptive power of art." —The New York Times Book Review
 
"Heart-thumping . . . culminating in an ingeniously played final twist." —The Milwaukee Journal Sentinel
 
"A taut tale of anger, revenge and inspiration." —Dallas Morning News
 
"Amazing. . . . The contrast between serene nature and extreme action made The Dog Stars such a sensation. Heller uses it again well in The Painter." —The Miami Herald

"[A] carefully composed story about one man's downward turning life in the American West. . . . Beautiful near-visionary descriptions." —The Boston Globe
 
"[Heller's] stories are of a classic type: unusual men, the kind we can identify with even if we're not painters or pilots, thrust into unusual, even tragic situations. Yet at heart, these men are not so different than those we know." —Santa Fe New Mexican
 
"The Colorado and New Mexico landscapes evoked in The Painter give the novel a deeper than usual sense of place." —The New York Times
 
"More than a little wondrous. . . . [Heller's] writing is strong and sure, at turns fizzy and sensual, dark and brooding, as filled with love as it is with suspense. This is stuff you'll taste in the back of your throat and feel at your nerves' ends." —Jackson Free Press
 
"Jim Stegner may be a mess of a man, but it's fascinating watching Heller plumb his broken soul." —Salt Lake City Weekly
 
"Offers modern twists on the ancient themes of family, duty, revenge, and justice. . . . Heller creates in Stegner a . . . flawed, reflective, and fully realized protagonist." —Outside Magazine

"The Painter achieves the rare alchemy that makes it simultaneously an intellectually provocative literary novel and a pace-quickening thriller. . . . Compulsively readable . . . Heller gives you everything you could hope for in a great summer novel." —Nashville Scene

"Whether you read this novel for the plot or appreciate it for poetic insights into the human condition, either way, you'll be glad you did." —Wichita Public Radio

"The ghost of [Hemingway] drifts through the novel, in style and subject matter. Heller, however, has his own voice." —The Columbus Dispatch

"At times suspenseful, at times melancholy, at times spiritual, but always engrossing." —Library Journal (starred)
 
"A good book about being bad. . . .The Painter is a dark relative of David James Duncan's The River. . . . Vividly American. . . . Tremendously ambitious, a well-landed punch on the side of rugged masculinity." —Washington Independent Review of Books

"[A] masterful novel, in which love (parental and romantic), artistic vision, guilt, grief, and spine-chilling danger propel a suspenseful plot." —Publishers Weekly (starred)

"Heller's writing is sure-footed and rip-roaring, star-bright and laced with 'dark yearning,' coalescing in an ever-escalating, ravishing, grandly engrossing and satisfying tale of righteousness and revenge, artistic fervor and moral ambiguity." —Booklist (starred)